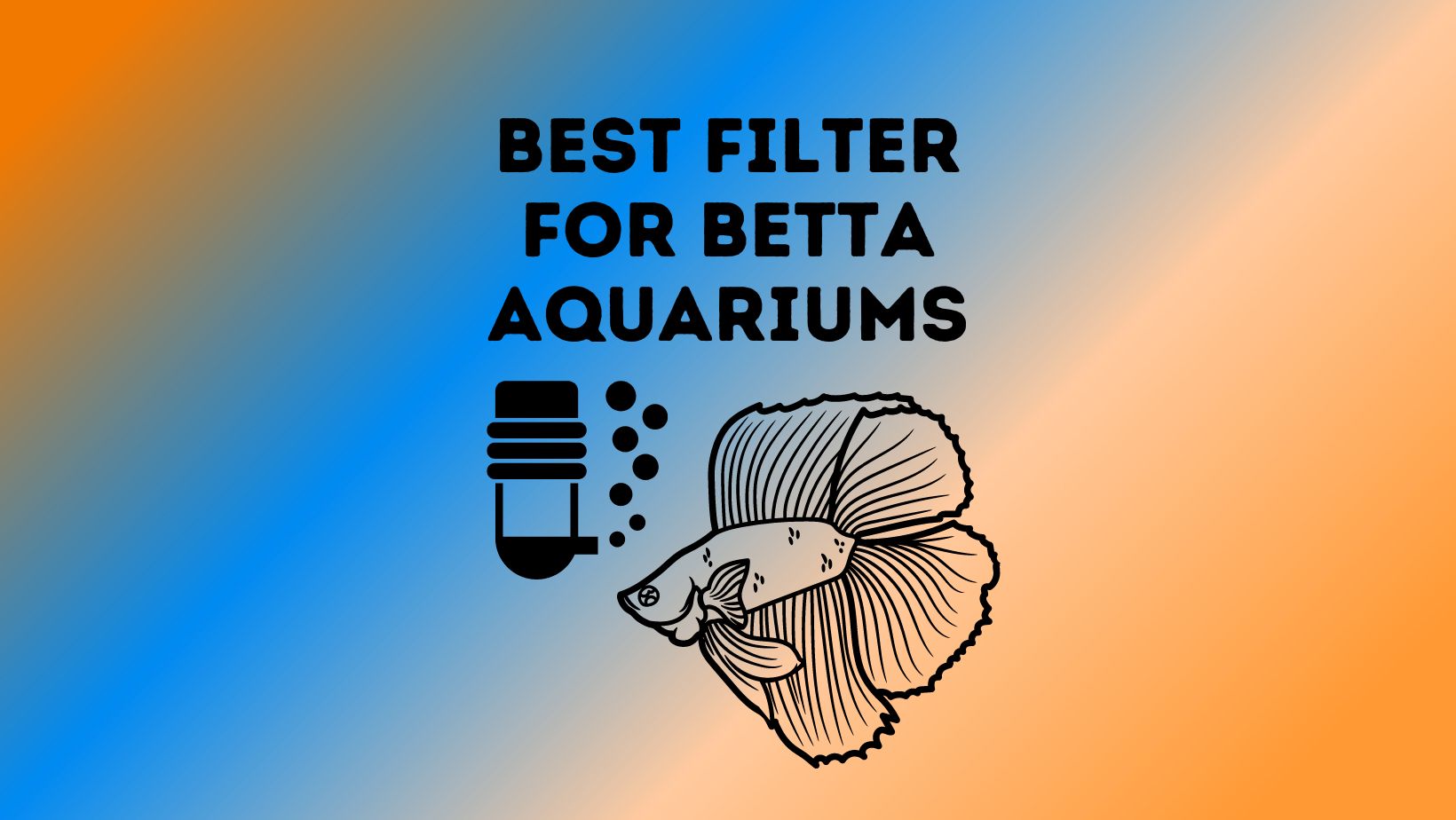 Bettas are one of the most beautiful breeds of tropical fish. With their bright colors and gorgeous tails, it is easy to see why they are a popular choice.
While many aquariums come with a filter, they may not necessarily be the best option for your betta. Given this, it is important to purchase the correct filter.
In this article, we have reviewed five of the best filters for betta fish. We have discussed their pros and cons and have chosen the best choice overall. We have included a useful buyer's guide that will tell you everything you need to know about choosing the correct filter too.
There is also a frequently asked question section at the end to answer any additional questions that you may have. We do not think that you will find a betta article than this!
In A Hurry?
Here is our top betta fish filter choice. AquaClear Fish Tank Filter
The AquaClear is an excellent quality filter for your betta fish. It suits a good variety of aquarium sizes, from 5 to 20 gallons.
It contains the three types of media you should look for in a good quality filter – chemical, biological, and mechanical. In addition to this, the water flow can be adjusted to better suit betta fish. It provides good oxygenation and filters the water well.
As it is suitable for slightly larger aquariums, it is a great choice if your betta is housed with other fish. It is easy to install and clean and comes with a lifetime warranty.
Although it is a more expensive filter, it is worth the investment as it will keep your betta happy and your tank clean.
OUR TOP PICK
AquaClear Fish Tank Filter

The AquaClear Fish Tank Filter is a HOB filter. It is suitable for tanks between 5 and 20 gallons in size. It is a good option if you have a larger tank that homes other fish alongside your betta.
It has low operating costs and uses three different filtration media – mechanical, chemical, and biological. It uses a carbon filter, foam, and Biomax to ensure your water quality is great.
It uses a patented filtration system. Keep in mind that the cost to purchase replacement media will be slightly higher in comparison to a filter that uses only one media.
The water flow can be adjusted to make it safe for use with betta fish. It also provides good oxygenation of the water.
The filter is easy to install and clean. It will need to be fully cleaned fortnightly. The volume of the filtration system is 7 times bigger than your average filter.
The AquaClear comes with a lifetime warranty. In terms of the cost, it is one of the more expensive filters featured in this article. However, it is a great choice overall.
Pros
Adjustable water flow
Three different filtration media
Lifetime warranty
Cons
A more expensive filter choice
EDITORS CHOICE
Tetra Whisper Internal Filter
The Tetra Whisper filter is internal. This means your tank can be pushed up against a wall. There is a clip included to attach the filter to your aquarium.
This filter is suitable for tanks between 3 to 10 gallons in size. It uses an air pump and water filter system.
The filter oxygenates the water with its air-driven design, as well as catching debris such as fish food, and waste.
The media it uses is Bio-Bag cartridges that can be replaced quickly and efficiently.
These bags will need to be changed monthly, so you will need to consider the costs of purchasing these. The cartridge is medium-sized.
The Tetra Whisper has a quiet filter, which is perfect for betta fish. It also creates a healthy environment for your fish. In terms of the price, it is fairly inexpensive. It is great if you are on a budget.
Pros
Quiet filter
The internal filter allows you to place your aquarium up against a wall
Creates a healthy environment
Cons
Biobag cartridges need to be replaced monthly, which could become costly
BEST VALUE
Marina Power Filter
The Marina power filter is a HOB and is suitable for tanks up to 10 gallons. It is fairly compact and ultra-quiet. The filter has an adjustable water flow which is essential when choosing a filter for betta fish.
This Marina is easy to clean and has a quick change, with no mess design. The filter uses Ceramitek which is great at keeping your tank water clean.
It is easy to maintain and the replacement cartridges are inexpensive to purchase.
The setup is easy and no priming is needed. The filter comes with 2 filter cartridges, 1 Bio-Clear, and 1 Bio-Carb to get you started.
It has a strainer sponge that prevents fry and smaller fish from getting caught in the filter.
Overall, this filter is made by a well-known company and is fairly inexpensive to purchase. It is one of the more affordable options.
Pros
Reasonably priced
Uses Ceramitek that helps to keep the water clean
Easy to set up and maintain
Cons
Only suitable for small aquariums
RUNNER UP
Fluval External Filter
The Fluval filter is an external canister. You will need to ensure you have enough room outside of your tank to place it.
This filter is suited to larger tanks and can work in aquariums up to 45 gallons.
It is a powerful filter and would not be suitable for smaller tanks. It is easy to install and uses advanced motor technology.
The Fluval uses multi-stage filtration which is great for keeping the tank clean.
It operates quietly thanks to its sound dampening impeller design. The Fluval is easy to use and maintain and has a dual-layer foam screen.
The intake strainer is clog-proof which will help to prevent the filter from breaking.
The filter comes with a three-year warranty. It is one of the more expensive filters included in this article but it is made by a well-known and trusted brand.
It is a good choice if you have a larger tank with multiple fish.
Pros
Great filter for larger tanks with multiple fish
Clog-proof strainer
Advanced motor technology
Cons
Too powerful for smaller tanks
RUNNER UP
Aqueon Quietflow Internal Power Filter
The Aqueon filter is internal and is suitable for aquariums up to 10 gallons. It has an adjustable flow rate and can be placed vertically or horizontally. It comes with a lifetime warranty.
The filter uses a three-stage filtration system and is great at keeping the water clean and safe. It uses a BioGrid to remove ammonia and nitrates. The filter cartridges are easy to remove and replace.
It uses activated carbon in the filter to help keep the tank clean. It is worth noting that this filter does not come with an adjustable flow, which could potentially be a problem if it is too strong for your betta.
In terms of the price, it is on the more expensive side. However, it is a good filter overall.
Pros:
BioGrid helps to remove ammonia and nitrates
Lifetime warranty
Uses activated carbon
Cons
Waterflow cannot be adjusted