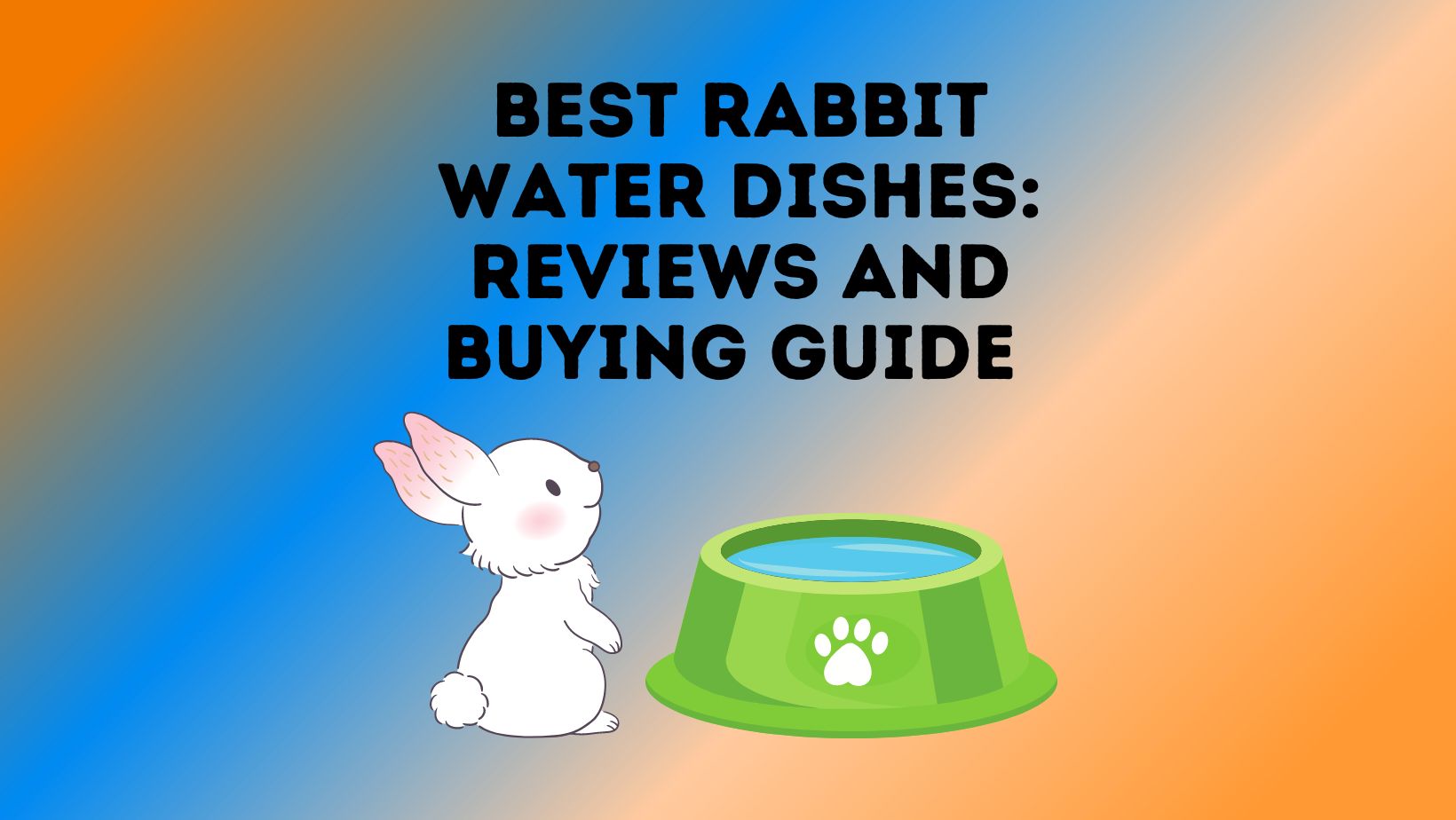 Providing your rabbit with clean water will keep it healthy and well-nourished. As a pet owner, there are multiple options available, and finding the best rabbit water dishes can be quite confusing.
Everything you provide your rabbit with will directly impact its behavior, health, and growth. This is why we've gathered information about the best products on the market, and we'll answer a few questions to help you pick the right water dish.
The wrong water bowl can be a hazard in your rabbit's cage. It might always tip over and make the cage wet, or the edges might be too sharp for your bunny. Here are our top picks to compliment your rabbit feeder.
Hypeety Stainless Steel Food Water Bowl for Rabbits
Made of stainless steel, this Hypeety water bowl has a ring that you can easily attach to the cage. Next, you'll fit in the dish for a fast setup. It's easy to remove for cleaning.
This durable dish is available in three different sizes, depending on the number of your pets, the size of the cage, and the size of your pets. The ring secures it into place, and your bunny won't tip it over and spill the contents.
You can use this bowl to store water or rabbit food. It resists rust or cracks, but installing the ring to the dish can be a little bit tricky.
What We Like
Durable stainless steel water bowl.
Can be used for food.
The ring keeps the bowl in place to prevent spills.
Available in three sizes.
Easy cleaning.
What We Don't Like
Installing the dish to the ring can be tricky at the beginning.
---
Living World Lock & Crock Dish Small Animal Bowl
This is a safe water bowl for your rabbit because it's made of chew-resistant thick plastic. It's dishwasher safe and is made to last.
The design of the bowl fits into the wires of any rabbit cage and secures it in place, so your bunnies won't tip it over. It can be installed in vertical or horizontal wires with no issues. The dish is available in 2 different sizes; 6 and 20 ounces, so you can pick the right one for your pets.
When it's time for clean-up, the bowl detaches effortlessly. Due to the design, the bowl can sit too high for a baby bunny, which is more suitable for older rabbits.
What We Like
Chew-resistant plastic.
Dishwasher safe.
It can be attached to horizontal or vertical wiring.
Quickly detaches for cleaning.
Available in 2 sizes.
What We Don't Like
It can be too high for a small rabbit.
Kaytee Paw-Print PetWare Bowl
This Kaytee rabbit bowl looks cute with adorable rabbit prints, but it's also durable and practical. It's made of chew-resistant ceramic, guaranteeing it will last for long. The weight of the ceramic will keep the water bowl in place to prevent spills that wet the house of your bunnies.
If you have a medium-sized rabbit, this will be a perfect choice for them. However, a baby rabbit won't be able to reach the water at the bottom.
Thanks to its straightforward design, you can easily clean the bowl and replace the water. It has some weight, but you can still easily pick it up. It has a capacity of 8 ounces, and there's only one size available. It will be too small for multiple rabbits or bigger ones.
What We Like
Straightforward design.
Easy cleaning.
A ceramic bowl that can't be tipped over easily.
Adorable prints.
What We Don't Like
Not suitable for bigger rabbits.
---
Aqueous Cat Elevated Double Transparent Plastic Bowl
The dual setup of the aqueous plastic bowls is designed to provide your bunnies with fast and easy access to water and food. The slightly elevated and titled design will put less pressure on your rabbits' joints and stomach so they can stay healthy. Although it's marketed for cats, this bowl can also be used for any small pet like a rabbit.
Made of environmentally friendly PVC, this bowl can be used for water and food at the same time. It's durable and easy to clean.
The non-slip mat keeps the bowls in place and prevents overturning, keeping the cage clean and dry. The bottom features a non-slip sticker to secure the bowl for easy feeding and drinking. It's more expensive than other water bowls, and there's only one size available.
What We Like
Two dishes for water and food.
Slightly tilted and elevated to allow for faster and easier access.
Non-slip mat to keep the bowls in place.
Easy cleaning.
What We Don't Like
More expensive than other models.
Only one size is available.
RUBYHOME Feeder and Water Bowl
This dual setup by Rubyhome features 2 bowls in one. The outer one is made of durable plastic that feels comfortable to touch, and the inner one is made of sturdy stainless steel. The cross lock design secures the plastic bowl to your rabbit's cage, preventing accidental spills.
Multiple colors are available, so you can pick the right one for your bunnies, and you can also choose between the small and large sizes, depending on the size and age of your pets. The food-grade stainless steel and environmentally-friendly plastic are both safe for your rabbit.
When it's time to clean, you can easily remove the stainless steel internal bowl, without messing up with the setup. Getting it to fit snugly can be a bit problematic.
What We Like
Dual water bowl.
Internal food-grade stainless steel bowl.
Multiple colors are available.
Plastic bowl is secured to prevent spilling.
What We Don't Like
The installation process can be a bit challenging.
---
Should I Buy a Water Dish or Bottle?
Although water bottles are extremely popular and practical, some bunnies and owners still prefer bowls over them.
In the wild, rabbits drink from water sources that are found on a ground level. A water dish resembles these natural sources, so your bunny is likely to prefer it over a bottle.
Water dishes are more practical if you have old or multiple rabbits in the cage. Older rabbits might have eye problems and might not have access to the bottle when they're competing for water.
The bottle provides access to one bunny at a time, and things can become too stressful if you have several rabbits in the same house. This problem can be solved if you choose to install several bottles in the cage.
Due to their open nature, you can easily clean and refill water dishes.
The biggest disadvantage of bowls is that they can be easily moved around, so your rabbit might accidentally knock the dish over. However, this problem can be solved by picking a water dish that can be securely attached to the cage.
How to Choose the Best Rabbit Water Dish
Although selecting a water bowl for your bunnies might seem easy, you actually need to be careful before adding any item to your rabbits' habitat. Here are a few things to think about before buying a water dish.
Material Used
Ceramic or steel are widely used because they're durable. They're also heavy, so a single rabbit is unlikely to move the bowl or spill the water, keeping the cage clean and dry. However, plastic bowls are extremely affordable, so some owners might still prefer them over heavier and more durable ones.
Keeping the bowl at ground level is highly recommended as it will encourage rabbits to drink naturally. If you choose to keep the dish elevated, you must make sure that it's securely attached to the cage, because it might fall and damage the cage or harm one of the rabbits inside. Moreover, the elevation should still provide your rabbits with easy access to water.
Cleaning and Maintenance
Unlike a water bottle, rabbit water dishes will be open, and this makes them more prone to contamination. Regular cleaning and replacing of water is required to make sure that your rabbit has access to clean and healthy water.
It's recommended that you check the water on a daily basis to keep it at an appropriate level and replace it if it's not clean. Use a mild detergent and a special sponge to clean the bowl. You need to make sure that the material can handle regular cleaning, and there are no rusty spots. There are also some dishwasher-safe models.
Size and Shape
The size of the water dish should depend on the number of rabbits you have in the cage. As a rule of thumb, the bowl should be able to store water that your bunny can use in 2 days, and having more rabbits in the cage means that you should consider a bigger size.
Make sure that the bowl doesn't take up much space in the cage, or it will obstruct the rabbit's natural movement. If the bowl is too small, multiple rabbits might not have easy access to water.
Examine the edges of the dish and make sure that they're properly cushioned or protected. You should avoid any dish with sharp edges as it might harm the delicate skin of your bunny.
Wrap Up
With the best rabbit water dishes above, you'll have various options to choose from. We chose the Stainless Steel Food Water Bowl as our top choice because it's easy to set up and clean. It's made of safe stainless steel, and it's durable enough to last for long.
There are other cool products on our list that you can give a try. Remember that your rabbit won't survive for long without water, and you need to keep clean water and healthy food within reach.