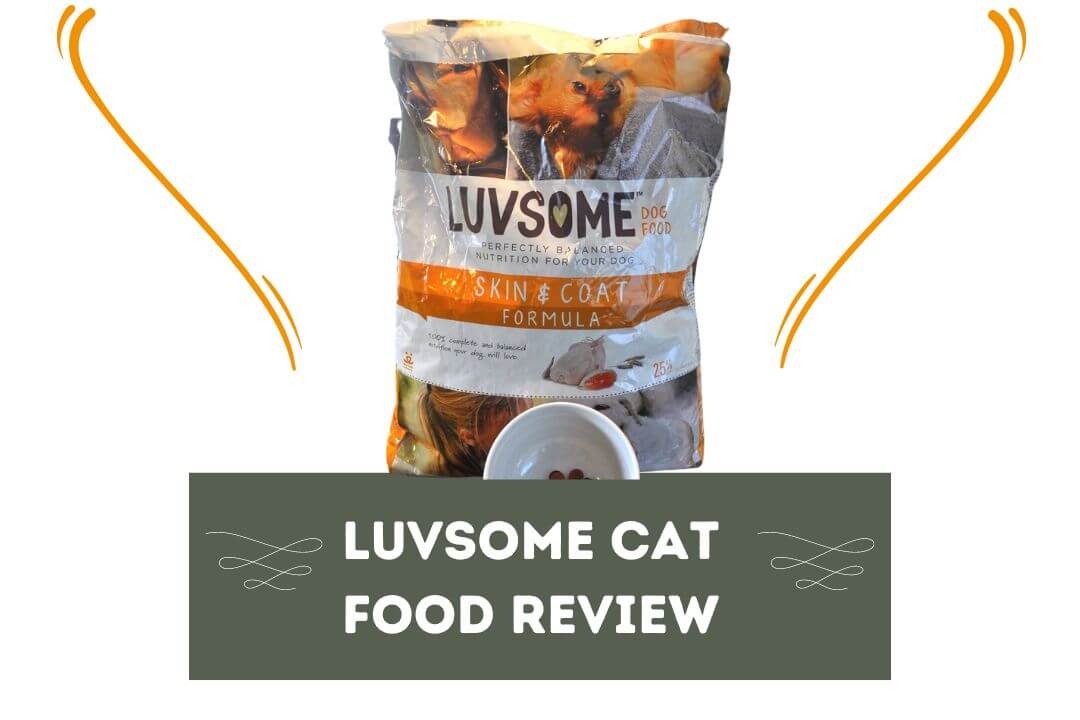 Recently, luvsome brands are gaining more popularity day by day. Hence, you must choose the right cat food for your furry friend if you're a cat parent. With so many options available in the market, it can be overwhelming for you to pick one that suits your cat's nutritional needs & tastes good as well.
In this article, we'll take a closer look at Luvsome Cat Food and review its ingredients, nutritional value, & overall quality. So, without wasting more time, let's learn that.
Luvsome Cat Food Review
I hope you are familiar with the Luvsome Cat Food brand, which is exclusively available at Kroger stores. This brand is known for offering a wide range of cat food options designed to meet the nutritional needs of cats of all ages, sizes, and breeds.
A study by the University of California, Davis found that cats fed with high-quality commercial cat food had better health outcomes than cats fed with homemade diets. And the good thing is that Luvsome Cat Food is known for using high-quality ingredients sourced from trusted suppliers.
As per the study, commercial cat food, like Luvsome Cat Food, can be a good choice for parents who want to meet their cat's nutritional needs. As a cat breeder, my friend tried several cat food brands for his furry friend.
Ultimately, he decided to try Luvsome Cat Food after reading positive reviews online. You might not believe it, but 6 out of 8 loved the taste of the food. Plus, he nevermind luvsome cat food for a few months because of its nutritional value and product quality. I have been feeding my cat Luvsome Cat Food for a few months, and I haven't noticed any negative effects on her health.
Ingredients & Nutritional Value
| | | |
| --- | --- | --- |
| Product Name | Crude Protein | Crude Fat |
| Dry Cat Food | 30-34% | 12-14% |
| Wet Cat Food | 8-10% | 5-7% |
The first thing you must consider when choosing a cat food brand is its ingredients. Since Luvsome Cat Food uses real meat as the primary ingredient in its products, this is a good sign, and you don't have to worry much.
This brand offers wet and dry cat food options rich in protein and other essential nutrients, so it bothers me when you don't have options. As per my current research, I found that dry cat food options offered by Luvsome brands usually contain between 30-34% crude protein and 12-14% crude fat, which is a good balance for most felines' health & well-being.
On the other hand, the wet cat food options contain between 8-10% crude protein & 5-7% crude fat. You must also note that Luvsome Cat Food also offers grain-free options for cats that have food sensitivities.
Taste & Texture
Even though the nutritional value is important, your cat may refuse to eat food if it doesn't taste good. Fortunately, Luvsome cat food offers a variety of flavors, including chicken, beef, and fish to choose from.
All these flavors are said to be very popular among cats. The brand also offers pate and shredded wet food options to cater to different tastes. You can choose any depending on your cat's taste buds, favorite flavor, and preferences. 
Quality & Safety
One of the most important factors you must consider when choosing a cat food brand is its quality & safety. As I said, Luvsome Cat Food is known for using high-quality ingredients sourced from trusted suppliers. Plus, you don't need to worry much because this brand also follows strict quality control measures to ensure its products are safe and meet the highest standards.
Plus, I haven't heard of any recalls made by Luvsome Cat Food, which is a good sign of its quality & safety. You should know that the brand also offers a satisfaction guarantee, which means that if you're unsatisfied with their product, you can always return it for a full refund.
Pros
They use real meat as the primary ingredient
They also offer both wet & dry food options
Their formulas tend to be rich in protein and other essential nutrients
There are also Grain-free options available
They offer a Satisfaction Guarantee
Cons
Only available exclusively at Kroger stores
You may find a limited variety of flavors compared to other brands
Luvsome Dry Cat Food Review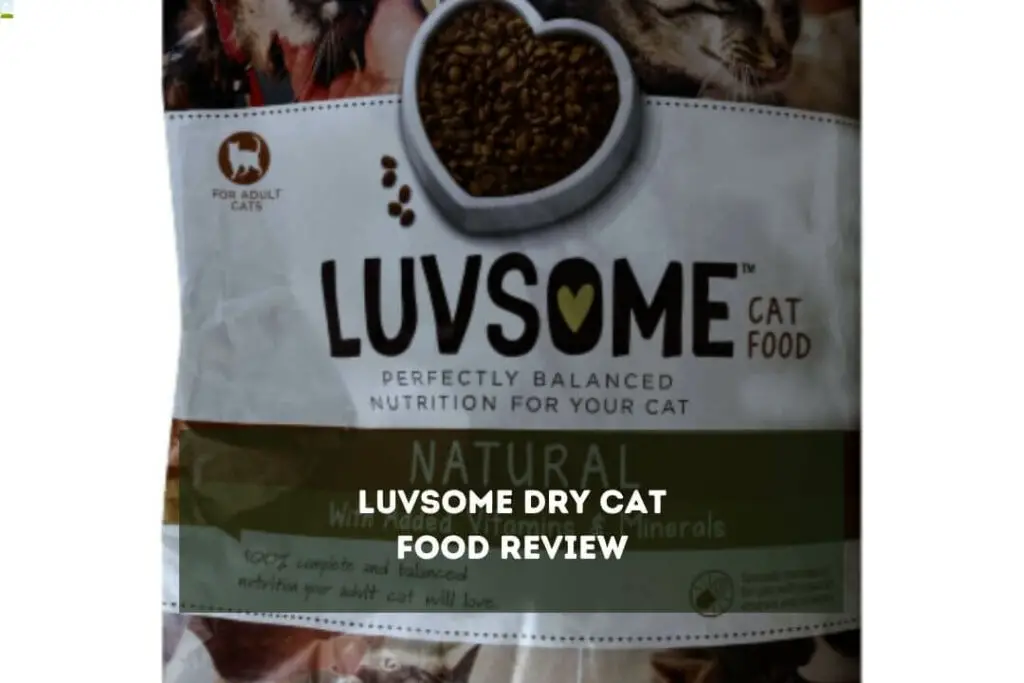 | | |
| --- | --- |
| Nutrient | Percentage |
| Crude Protein | 30% |
| Crude Fat | 12% |
| Crude Fiber | 4% |
| Moisture | 10% |
| Omega-6 Fatty Acids | 2.5% |
Looking at the table, you can easily understand that Luvsome Dry Cat Food is rich in protein and moderate in fat & fiber content, making it a good option for cats needing a high-protein diet.
This is a go-to product if your cat is bold, energetic, athletic, and muscular. Plus, the brand claims to use high-quality and safe ingredients that provide cats with the necessary nutrients to thrive. Here are seven common ingredients.
Chicken (The first ingredient that provides high-quality protein essential for cats' growth & development)
Corn (Not the best source of carbohydrates, but it is a common ingredient)
Brewers Rice (Source of carbohydrates)
Chicken Fat (A high-quality source of fat that provides cats with essential fatty acids)
Natural Flavour (To enhance the taste)
Dried Beet Pulp (Source of fiber that helps with digestion)
Vitamin & Mineral Supplements ( To provide a balanced diet)
Pros & Cons
| | |
| --- | --- |
| Pros | Cons |
| High-Quality Protein | Use Of Corn |
| Balanced Nutrition | Limited Flavour |
| Affordable | Not All Cat Love Its Flavor |
Luvsome Wet Cat Food Review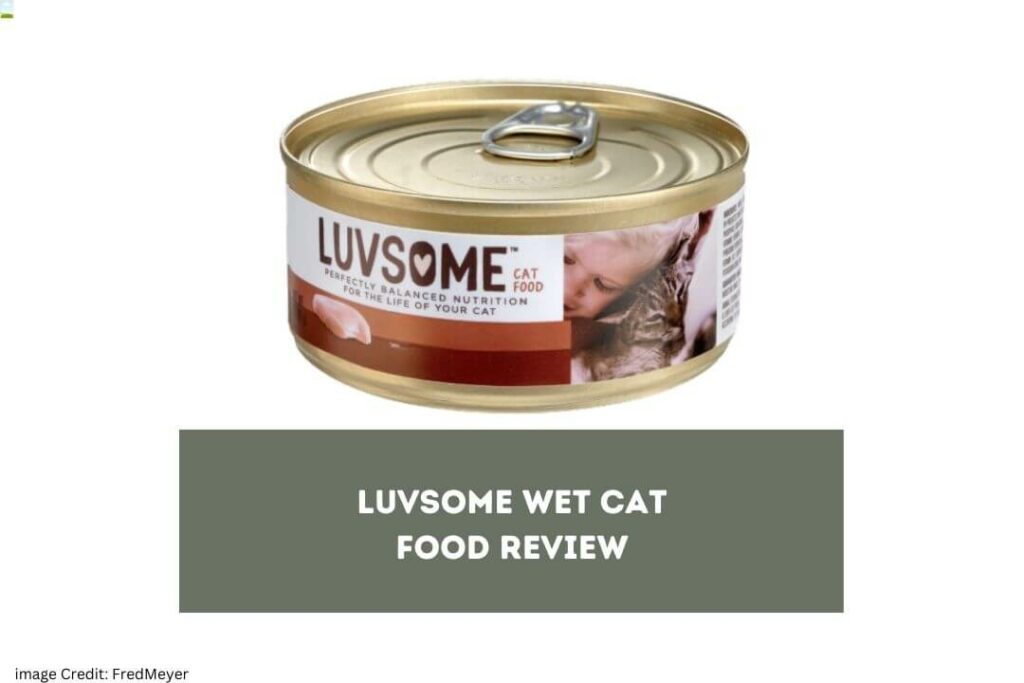 According to the brand's website, their wet cat food provides a complete and balanced diet for cats of all life stages that contain the following nutrients
Crude protein: 9.0% min
Crude fat: 5.0% min
Crude fiber: 1.0% max
Moisture: 82.0% max
Based on these values, Luvsome Wet Cat Food provides a moderate amount of protein & fat with a low amount of fiber. But, as I told you earlier, the specific nutrient requirements for each cat can vary individually depending on their age, weight, & activity level.
Talking about its ingredient, the luvsome wet food contains Chicken Broth, Chicken, Tuna, Liver, Wheat Gluten Modified Food Starch, Soy Flour, Natural Flavor, Guar Gum, Tricalcium Phosphate, Salt, Potassium Chloride, and Choline Chloride.
However, it is important to note that some ingredients, like gluten and soy flour, can be toxic to your cat. Some cat breeds tend to be allergic to these kinds of ingredients.
Also, few people have complained About the ingredient being sourced from unspecified animals, which is concerning, especially for cat owners. However, all in all, this food is considered to be a good food for cats occasionally but not as a staple diet. Instead of treats you can feed this one as well once in a while. My cat is addicted to treats, and I usually switch her treats with this food. However, make sure you know How Long Can You Leave Wet Cat Food Out?, before you buy one.
Pros & Cons
| | |
| --- | --- |
| Pros | Cons |
| This one provides a complete and balanced diet. | It contains wheat gluten and soy flour, which can be allergenic for some cats. |
| Good sources of protein (chicken, tuna) | Includes unspecified animal sources |
| Affordable compared to some other cat food brands | Some cats may not like the taste or texture |
Luvsome Sensitive Cat Food Review
Talking about sensitive cat food has many benefits. First of all, if your cat is prone to allergies or has a sensitive stomach, this food can be the best. This luvsome sensitive cat food comes with high-quality ingredients at a very affordable price.
When you compare these with other ones, it does have similar ingredients without artificial preservative, flavors, or colors but tends to be tastier than its competitor. Out of all the sensitive food brands that make specialized formulas for cats, this one tends to be better in terms of texture and nutrition.
This luvsome sensitive cat food contains plant-based protein, mainly protein that some cats may have difficulty digesting. If your cat is suffering from difficulty digesting this food, you should switch it immediately.
According to the package, it has a high amount of protein, up to 32%, but the fiber and fat content are less, making it an imbalanced diet to be used as an only serving. If you consider adding additional ingredients as a source of fat, protein, Minerals, and vitamins, your cat will be getting all the nutrition she needs along with this food.
However, you don't have to provide any additional supplement that your cat needs because this lovesome sensitive cat food already contains Vitamin E and taurin that support your feline's overall sensitive stomach and heart.
The main ingredient that is found in this food is chicken pea protein and brown rice. Some cats may have an allergy to Pea protein, so I recommend you consider Consulting with your veterinarian first regarding what you should be feeding to your feline.
Conclusion
After reading this article, I hope you learned all the information that can help you make informed decisions on purchasing the right food for your cat. Overall luvsome cat foods are great options to go with or to start with.
First, I recommend you go with the luvsome dry cat food depending on your choice and your cat preferences. Choose the flavor your cats like. Also, make sure you slowly transition to a new food.
Suppose your CAT was eating a different food than a regular meal. In that case, I recommend adding this food in a moderate amount in their daily servings and then gradually increasing it daily.
You must also monitor your cat's reaction, and if she exhibits any signs of vomiting, pain, or diarrhea, consult with your veterinarian immediately. I hope you like this article, and if yes, please share it.
Your share will help many people learn about this reputable luvsome cat food brand that has no recall history, making them a perfect option. Do check our other helpful guide on cat food recipes and reviews. See you in the next post, till then, take care and goodbye.