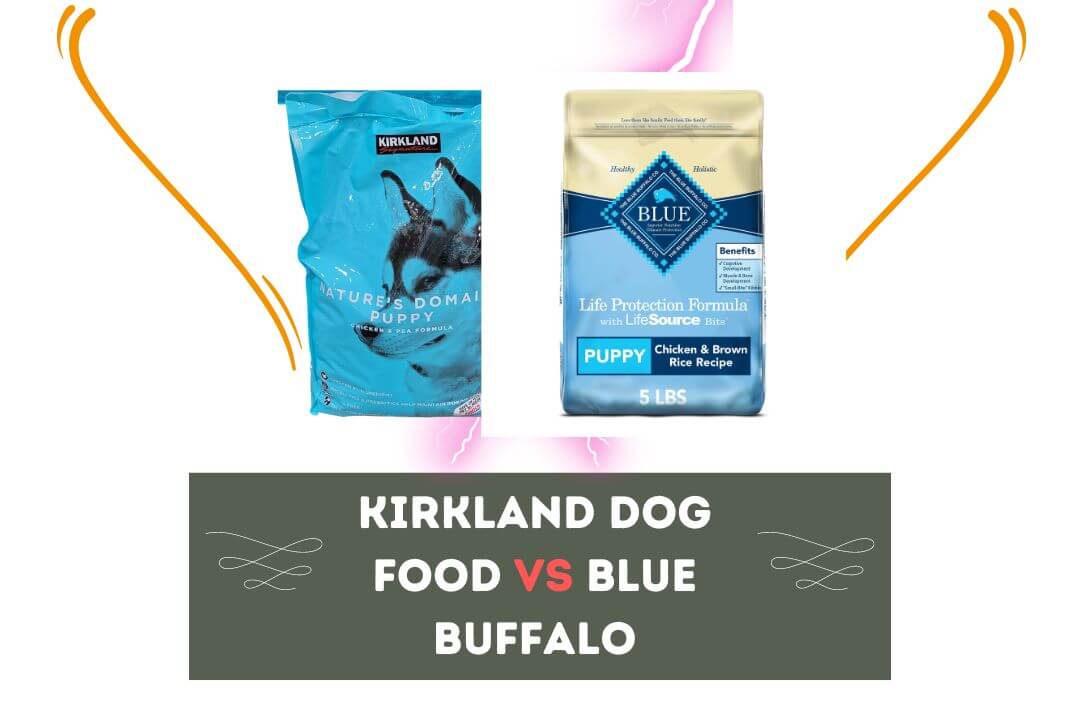 If you want information on 'Kirkland Dog Food vs. Blue Buffalo,' keep reading on. In the Hindi article, you will learn 'how Kirkland dog food compares to blue buffalo.' I am going to help you make an informed decision about which brand of dog food is better for your dogs.
We'll also discuss both brands' ingredients, prices, nutritional value, recall history, and availability to provide a comprehensive comparison. But before that, let's find out what dog food is and who manufactured it then.
What is Kirkland Dog Food & Blue Buffalo?
Kirkland dog food is a private-label brand sold exclusively at Costco. This brand offers a range of dog food products formulated to meet your dog's nutritional needs of all ages, sizes, and breeds. Kirkland dog food is known for its high-quality ingredients, which include real meat, vegetables, and fruits. 
Blue Buffalo, on the other hand, is also a famous dog food brand founded in 2002. This brand is also known for its high-quality ingredients without unnecessary additives, which include real meat, fruits, and vegetables. Their food contains all the vitamins, minerals, and nutrients your dog needs to stay healthy.
Is Kirkland Dog Food Made by Blue Buffalo?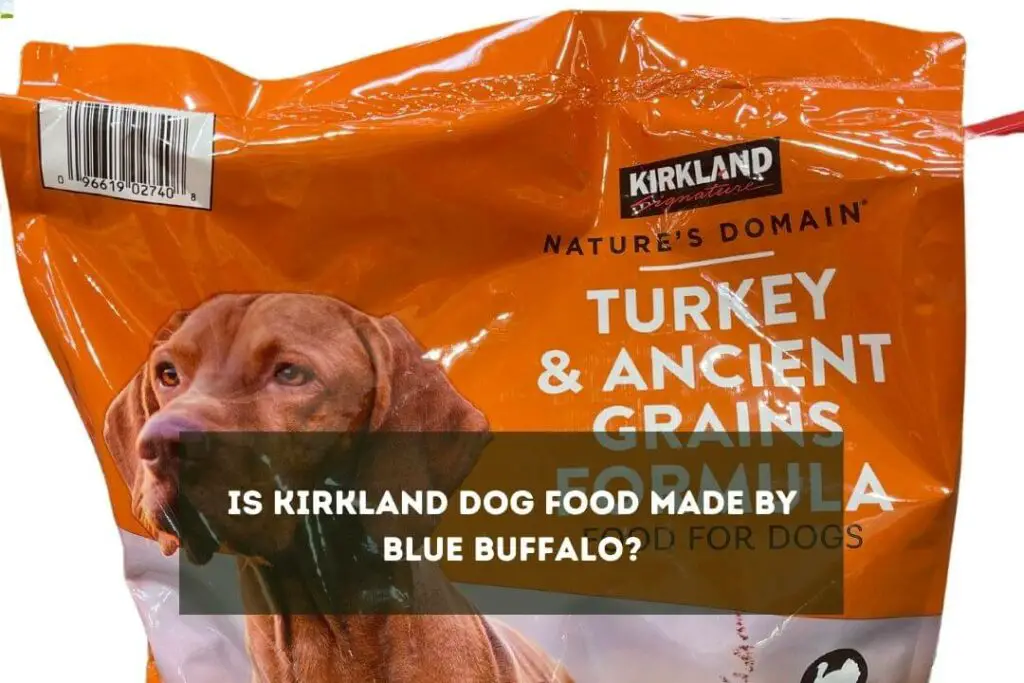 There is a widespread rumor that Blue Buffalo makes Kirkland dog food. However, this claim is not valid. Diamond Pet Foods, an independent company, manufacture Kirkland dog food. Blue Buffalo, on the other hand, is owned by General Mills' Brands, a separate company.
Some of the popular brands of general Mills are said to Betty Crocker, Pillsbury, and Blue Buffalo. Blue Buffalo offers highly nutritious food that is targeted at dogs as well as cats.
While researching, I learned that this brand manufactures dog foods with clinically proven formulas to support specific health needs for your pup.
According to the company's claim, their foods are clean and clinically proven to help the health condition of dogs, like digestive care, hairball control, joint health, weight control, and skin and coat.
On the other, Kirkland is known for manufacturing grain-inclusive price dog foods. As per my research, most of their foods contain meat meal-based protein. This is good for our pooch health because they need such kind of protein in high amounts to support their healthy muscles as well as energy need.
Note that dogs fed a high-quality diet had fewer health problems than those fed a lower-quality diet. And if we look at Kirkland's, they are committed to using high-quality ingredients and manufacturing processes that ensure their products' safety and nutritional value (According to the Diamond Pet Foods website).
Kirkland dog food is also made in the United States and undergoes rigorous testing to ensure that it meets the highest quality and safety standards for dogs. Both brands are known for manufacturing high-quality ingredients.
Still, as a dog owner, I have used Kirkland dog food for several years and have always been satisfied with the quality and affordability of the brand. Blue Buffalo is quite expensive. However, it doesn't mean that it's not worth it.
It is totally up to you and your budget. However, you should always ensure that the cheapest or the most expensive food is only sometimes the healthiest food for our food.
Another study published in the Journal of the American Veterinary Medical Association found that some pet foods, including some premium brands, contained lower quality ingredients than advertised on their labels.
However, the study did not compare Kirkland dog food and Blue Buffalo specifically (feel free to go with any of both), but it highlights the importance of choosing high-quality dog food for our dog.
After knowing so much about both dog food brands, let's take a quick look at the difference between Kirkland dog food and blue buffalo dog food.
How Does Kirkland Dog Food Compare To Blue Buffalo
One of the primary differences between Blue Buffalo and Kirkland dog foods is their type of protein. Kirkland uses animal-based protein. Another difference is their price point. Kirkland dog food is generally less expensive than Blue Buffalo.
According to my research, Kirkland Dog Food provides better value overall than Blue Buffalo, as their products are high-quality and reasonably priced.
On the other hand, Blue Buffalo foods offer a more balanced nutritional profile and product variety suited to dogs with specific food requirements. Therefore, if you need any particular food for your dog's health, Blue buffalo is an excellent option as they have wide varieties to offer for your Pooch.
However, if you are like me and are looking for high-quality dog food at a reasonable rate, you can go with the curriculum kark land dog foods. If you are still trying to decide the suitable option between Kirkland Dog Food vs. Blue Buffalo, here are five key differences.
Kirkland Dog Food vs. Blue Buffalo: 5 Major and Relevant Differences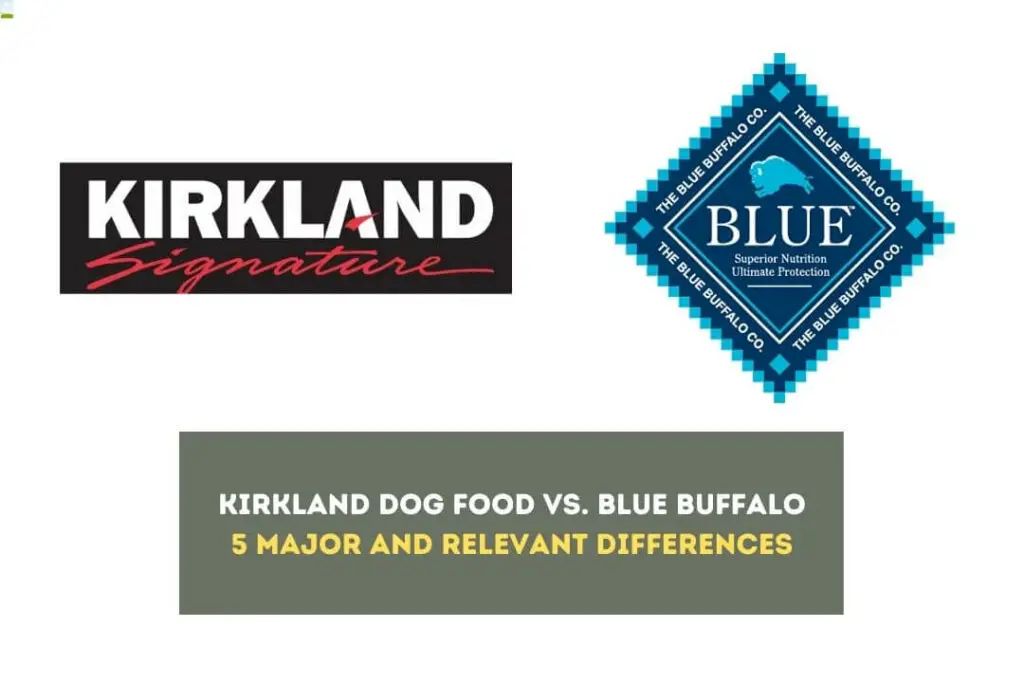 Background
As I told you earlier, Kirkland dog food is a private-label brand owned by Diamond Pet Foods, Inc. The parent company was founded in 1970 and named after Kirkland, Washington, where Costco was headquartered in 1992.
Blue Buffalo, on the other hand, was founded in 2003 by Bill Bishop. The company first aimed to manufacture natural and healthy food for all dogs and cats. The brand was named after the Bishop family's beloved pet blue Airedale, ' Blue.' 
Ingredient Quality
As per my research, Kirkland dog food uses ingredients that are are of high quality. Some of those common ingredient, that you dog may benefit from include whole grain brown rice, egg product, potatoes, fish meal, natural flavor, peas, apples, parsley flake, chicken fat, etc.
On the other hand, Blue Buffalo also uses high-quality ingredients in their products. Still, they focus more on using more natural and grain-free ingredients like sweet potatoes, peas, and blueberries.
Price Comparison
I generally find Kirkland dog food less expensive than Blue Buffalo. However, as I told you, prices could vary depending on the specific product, package size, and location.
Before making a purchase, I recommend you compare the latest / current prices of both the brand foods that contain the same ingredient to get a better idea of the price difference between the two brands.
For example, the cost of almost similar products with similar ingredients for both brands was priced differently.
There was a $20 straight difference, but the package size difference was only 10 pounds. Below is an example of what I'm talking about and what you can expect to see from both brands in terms of price point:
| Brand | Product | Package Size | Price |
| --- | --- | --- | --- |
| Kirkland | Chicken and Rice Formula | 40 lbs | $29.99 |
| Blue Buffalo | Life Protection Chicken and Brown Rice | 30 lbs | $49.98 |
Nutritional Value
Since both brands use natural ingredients with almost Little to no additives, preservatives, or chemicals, both are highly nutritious and provide balanced nutrition for dogs.
However, if you want specific results on your dog's health, I will advise you to choose one from the blue buffalo. Their foods are categorized to support different health options for dogs, whereas Kirkland offers affordable products that are nutritious, high quality, and tasty to dogs.
Recall History
When searching on the recalls of Kirkland dog food, I only learned about one that was in the past due to possible salmonella contamination. Other than this, there have yet to be any recalls made.
On the other hand, Blue Buffalo has had several memories in the past. I recommend you check the FDA website for more information on pet food recalls. I suggest you do not mind this much.
Both brands are very reputable, and you can go with any. You might find some options off-putting or not very suitable for your dog, but most of the options from both brands are tasty and of high quality.
Often Asked: Will My Dog Eat My Hamster? (Learn This 3 Things NOW)
Conclusion
I tried my best to give you an in-depth analysis of the difference between Kirkland dog food and blue buffalo. As for me, Kirkland is very affordable and offers high-quality, nutritious, and tasty foods for our dogs.
On the other hand, blue buffalo food is good if you are looking for any specific health support for your dog. As a regular ingredient/meal, you can go with the Kirkland line, as it is an affordable option and saves you a little money while providing all the nutrients and nutrition your dog needs.
If you find this article helpful, then consider sharing it. Your share will help many people choose the right brand for their dog between 'Kirkland dog food vs. blue buffalo' and understand the benefits and differences between 'Kirkland dog food vs. blue buffalo.'
Do check our other helpful guide on dog food. See you in the next post. Till then, take care and goodbye.