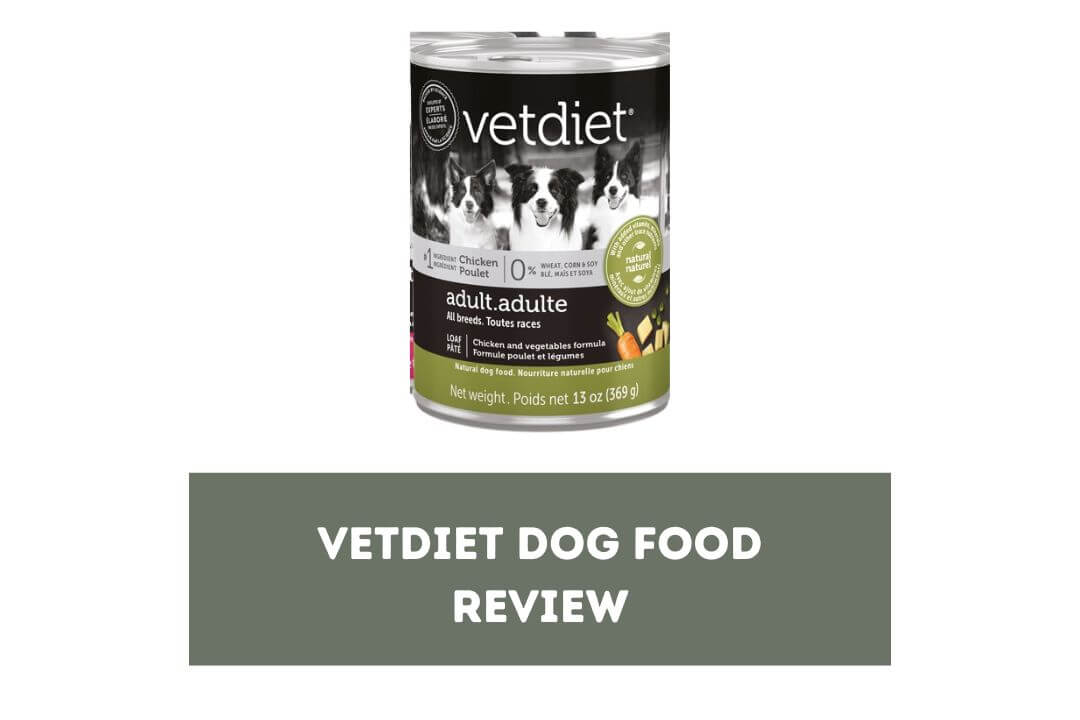 Many new brands are coming up with different recipes that can be fed to pets. There are so many dog food brands in the market that it is not only very challenging but also needs clarification to determine which one will be the right fit for your dog.
In this article, I will discuss one such brand, 'vet diet dog food review.' Here, I will provide you with a comprehensive review of Vetdiet dog food and discuss its history, ingredients, pros & cons, expert opinions, real-life success stories, and more.
Later, I will answer the most frequently asked question: 'is Vetdiet good dog food.' Further, we will take a quick look at the recall of the Vetdiet dog food and where to buy Vetdiet dog food. Let's first start with knowing and reviewing vetdiet dog food.
Vetdiet Dog Food Review
The name of this brand suggests that a veterinarian might have started it, but it's not the case. This particular brand Vetdiet is a Canadian-based pet food company known for providing high-quality dog food for over 30 years.
Like any other dog food brand available in the market with a good history, vetdiet also offers various dog food options, including dry kibble, wet food, and treats.
If you are looking for a specialized formula designed to cater to all dog breeds at different stages of life with various health conditions, you can never go wrong with vetdiet dog food.
But before we conclude that this brand is better than many newcomers in the market, let's first take a quick look at its ingredients.
One of the most common factors you should consider when choosing the right food for your food is the ingredients used in that particular dog food brand.
Ingredients in Vetdiet Dog Food
You should know that Vetdiet uses high-quality ingredients in its dog food that usually have locally sourced meat & fish, whole grains, fruits, and vegetables.
According to a study by the Journal of Animal Science and Technology, high-quality ingredients in dog food can improve the dog's overall health and well-being.
Like any other top food brand, All of Vetdiet's dog food formulas are also free from artificial preservatives, colors, and flavors. However, I believe it. It can be tough to have a shelf life of dog food for more than six months without artificial preservatives.
However, this is only a concern for some people. What you need to know is that Vetdiet is also offering grain-free options for dogs with dietary restrictions from the last few years. 
5 Pros of Vetdiet Dog Food
Like Red ford natural dog food, Vetdiet is also committed to using high-quality ingredients but has customized formulas that set it apart from other dog food brands. Some of the pros of Vetdiet dog food include the following:
You should know that Vetdiet offers specialized formulas for dogs suffering from certain health conditions like obesity, joint issues, & digestive problems.
As I told you earlier, this brand is also bound to provide grain-free formulas that are best for dogs with allergies, dental issues, and grain sensitivity. 
It is no surprise that their dog foods are also very free from artificial preservatives, colors, and flavors, making them a healthy option for dogs of all ages. 
The Vetdiet manufactures its food in not only Canada but also the United States with locally sourced ingredients: 
Since the brand Vetdiet is committed to sourcing ingredients locally, you should rest assured when feeding this food to your dog. Their dog food is of the highest quality.
3 Cons of Vetdiet Dog Food
Even though the dog foods of Vetdiet have many advantages, it also has some disadvantages that you should consider before making an important purchase for your dog's health and diet.
Vetdiet dog food is more expensive than some other dog food brands on the market.
It can be very hard and challenging to purchase at your local stores because vetdiet dog food may only be available in some areas.
Like any dog food brand, some dogs may also not enjoy the taste of Vetdiet's formulas. If this is the case, you need to keep experimenting.
Is Vetdiet Good Dog Food?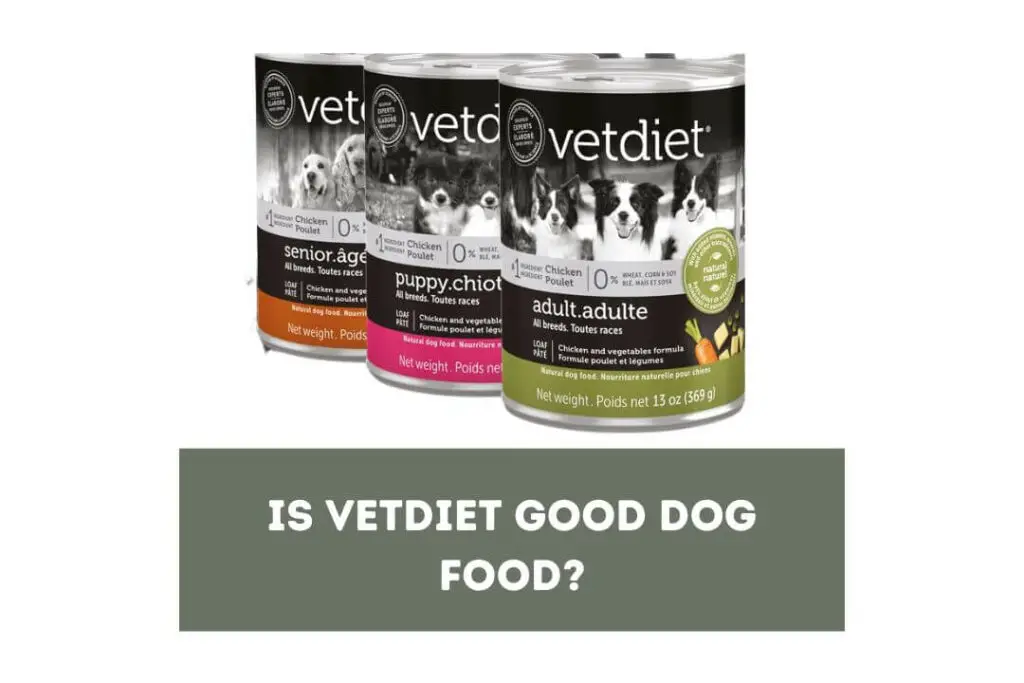 Yes, Vetdiet is a good dog food. According to Dr. Jennifer Adolphe, a Ph.D. pet nutritionist at the University of Saskatchewan, brands like Vetdiet are considered a healthy option. She states that brands that use high-quality ingredients with customized formulas to benefit dogs with specific health conditions are said to be good food.
In addition, many dog owners have reported positive experiences with Vetdiet dog food. For example, one customer noted that their dog's coat became shinier and softer after switching to Vetdiet with increased energy.
Vetdiet Dog Food Recall
If we talk about this brand's calls, you'll find nothing. This is a good sign because vetdiet claims they manufacture super-quality premium dog recipes.
This will give you more confidence when you quickly look at the most popular dog food brand recalls. I usually like going with dog food made in the United States and have no past track record of recalls.
Where to Buy Vetdiet Dog Food
Well, you can always purchase bedtime dog food directly from their website. Alternatively, you can get it from the select text store and veterinary clinics across Canada and the United States.
If you want to find a retailer near you, visit their website and use their store locator tool to navigate better. Ensure you are not purchasing any food from unreliable sources, as they might not be authentic or have passed the expiration date.
Expert Opinions on Vetdiet Dog Food
Many experts in pet nutrition have positive opinions on Vetdiet dog food. Dr. Adolphe notes that Vetdiet uses high-quality ingredients and customized formulas, making it a good option for dogs with specific health conditions.
In addition, respects, a trusted source for pet food supplies, gives Vetdiet dog food a rating of 4.5 out of 5 stars, citing its high-quality ingredients and customized formulas as major pros. 
Vetdiet Dog Food Customer Reviews
When I learned about the reviews and ratings made by dog owners who have used Vetdiet dog food, I learned about many positive experiences. If your dog is suffering from skin allergies and needs a proper clean-up, you can consider switching your pooch diet to a Vetdiet grain-free formula.
One of the customers stated that the dog's digestive system and joint health improved after switching to this brand. However, it is best to research the reviews and ratings made by the dog owners who have used Vetdiet products to determine if this is the one you want to go with or not.
If I were at your place, I would have tried a Vetdiet, especially in case my dog had any specific condition. However, if your dog is completely healthy, you don't need to pay extra for such super-premium food.
Conclusion
Overall, Vetdiet dog food is considered the highest quality food that offers customized formula to meet the unique nutritional needs of all Dogs with various health conditions.
Even though many people find Vetdiet a more expensive option than most other dog food brands, the company's commitment to high-quality ingredients and locally sourced meat or fish makes it a healthy but exclusive option for dogs.
Therefore if you are thinking of switching your dog's food to Vetdiet, I would highly appreciate you doing so. However, it is best that you first consider your veterinarian to determine the best formula for your dog and then purchase one directly from the Vetdiet website.
It is also important to introduce any new food to your dog in a small amount with their daily serving. Gradually, you can increase the amount daily and then switch it altogether if your dog seems comfortable with it.
If you find this article helpful, then consider sharing it. Your share will help many people understand why Vetdiet dog foods are so expensive and what makes them stand out from its competitors and other popular brands.
Do check our other helpful guide on different brand dog food reviews and homemade dog food recipes. See you in the next post; till then, take care and goodbye.