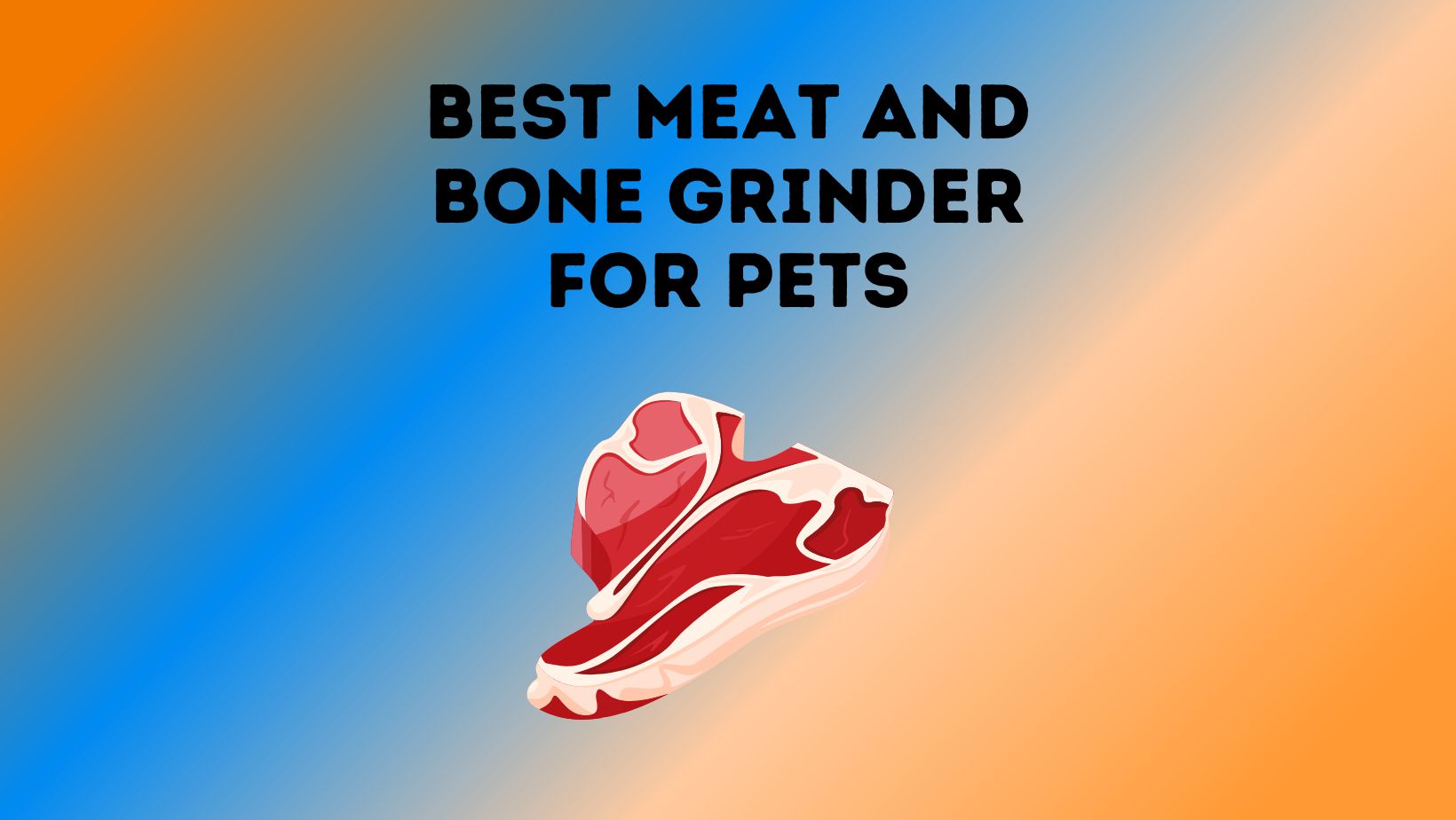 Raw food diets for dogs and cats aren't really anything new.  In fact, they've been around for centuries!
But, the raw food diet has definitely regained popularity in recent years.  Most notably Dr. Ian Billinghurst supercharged this shift in popularity with his famous BARF Diet.  And don't worry, BARF is just an acronym for "Biologically Appropriate Raw Food" or "Bones and Raw Food".
Basically, many believe that your pet can thrive on a raw food diet that consists of responsible and fresh whole foods ingredients such as muscle meat, organ meat, eggs, dog and cat safe fruits and veggies, and whole or ground bone.
For that last part, you want to have the best meat and bone grinder possible to help make homemade dog or cat food.  Not all meat grinders are meant for bones.
In this article, we'll help to show you the best meat grinder for bones to help make the best homemade dog food.  In the end, we'll go over some important tips for making and handling raw pet food.
STX Turboforce II"Platinum" w/Foot Pedal Heavy Duty Electric Meat Grinder
When it comes to meat and bone grinders, the amount of power your grinder has and safety features are probably the two most important things to look at.  The STX Turboforce II "Platinum" Heavy Duty Electric Meat Grinder checks both of these boxes with flying colors.
It features 2000 watts of peak output power with a high and low speed.  That's important because it takes a little bit of horsepower to grind bones, even smaller ones like chicken, duck, or rabbit.
For safety, there's a reverse setting and a safety circuit breaker that are both in place to help prevent auger jams and serious damage.  Really that shouldn't happen though if you are using the grinder properly.  This thing was made specifically to be a meat and bone grinder to handle pet food.
One of the best features of this meat and bone grinder is actually "under the hood".  STX has a patented "Quad Air Cooling" system which keeps the motor super cool during use.  Over time, this feature leads to this grinder lasting twice as long as lots of other electric grinders.
Pros:
Powerful and reliable, can easily handle small bones
Safety features in place to prevent damage
Patented cooling system helps motor and makes this grinder last a long time
Cons:
Some of the non-main components are plastic but that's why this grinder is less expensive
LEM Products Stainless Steel Big Bite Electric Meat Grinder
When it comes to the best of the best meat and bone grinders, the LEM Products Stainless Steel Big Bite Electric Meat Grinder takes the cake.  The reason we don't have it appearing first in this article is due to the price.  It's pretty expensive.
But if you have the budget or if you are making food for multiple pets, the value is 100% there.  This is the kind of grinder you only have to buy once and it will last you a very long time.  In fact, LEM backs this product with a 5 year warranty and lifetime customer support.  Both of those figures blow the competition away.
It has a 1.5 horsepower motor that runs at an unbelievably low volume level.  All of the parts are made of a brushed steel that is durable and minimizes fingerprints.  The tray is also made of sturdy steel and an extended auger pulls more meat in less time than pretty much any other meat and bone grinder on the market.
A subtle but great feature is the rifling pattern in the head.  It might not sound like a big deal, but it makes things a lot easier and pushes meat forward with less user interaction.
It's worth noting that LEM also makes 1 horsepower, .75 horsepower, .5 horsepower, and .35 horsepower models all at various price points.  If you want a meat grinder for bones, however, you need to buy a model that has .75 horsepower or more at a minimum.
Pros:
Overall best meat and bone grinder on the market
Stainless steel used throughout the unit
Covered by a 5 year warranty and lifetime support
Extended auger and rifled head minimize user interaction
Cons:
SuperHandy Ultra Stainless Steel Elite Series Meat Grinders
One thing that I personally don't like is when a grinder is bulky and takes up a ton of counter and storage space.  The SuperHandy Ultra Stainless Steel Elite Series #12 is great because it has a super slim profile while still providing enough power to handle small bones.
Don't let the slim size fool you though.  A 0.75 horsepower motor powers the grinder with the ability to grind up to 12 pounds of meat per minute.
All of the key components are made of SUS304 stainless steel metal.  The gears, meat pan, housing, grinder head, auger, and cutting blades all fall into this category.  All of these parts are anti-rusting and meat contact food safe.
One other think I love about this meat grinder for bones is that it's incredibly easy to clean.  All of the stainless steel parts are removable for easy cleaning.  Each of these component can be hand washed but they are also dishwasher safe.  There's also a storage box to keep any unused accessories safe and organized.
The SuperHandy meat grinder for bones is also available in 1 horsepower and 1.5 horsepower option which you should look into if you are making pet food for a lot of pets.
Pros:
Slim profile and solid stainless steel construction
Incredibly easy to clean – all stainless steel parts are dishwasher safe
Unit works extremely fast with a 12 pound per minute capacity
Cons:
Only one speed, and no reverse speed either
Happybuy Electric Meat Grinder Mincer 450Lbs/Hour 1100W
The thing about a meat and bone grinder for pet food is that you're probably going to use it all the time – because your pet always has to eat!  Because of that, you want the best meat grinder for bones that last and remain durable with a lot of use.
That's precisely what makes the Happybuy Electric Meat Grinder a great choice.  It comes with a 1.5 horsepower motor that lets it grind through all popular meats plus the typical types of bones you'd need to grind through for dog or cat food.
Technically, this is a commercial grade meat and bone grinder.  That means it's rated for daily use and will pass the test of time in helping to keep your pet on their raw food diet.
Another feature I really like is that the unit is designed to minimize the amount of noise that you hear while grinding.  Any time you are working with motors, there will naturally be some noise.  But you don't want it to be obnoxiously loud.  The Happybuy has a noise reducing design that helps to keep things reasonably quiet while you grind.
Pros:
Powerful 1.5 horsepower motor
Stainless steel used throughout the unit
The design is easy to take apart for cleaning
Cons:
A few customers have had parts break on them.  If that happens, reach out to the manufacturer and they should replace them
Huanyu Manual Meat Grinder Stainless Steel
Personally, I think electric is the way to go, but if you like to grind manually then the Huanyu Manual Meat Grinder is the best manual meat grinder for bones.  Honestly, most manual meat grinders are entirely not capable of handling bones so that says a lot about the quality of this one.
The support system comes from a suction cup base that can be secured on any flat surface like a table or countertop. From there, a stainless steel table clamp and double fixing prevents the machine from moving while you crank.  The last thing you need while manually grinding meat and bones is a wobbly grinder!
As far as construction materials go, each component is made of stainless steel that is rust proof and food grade.  The stainless steel parts all come apart for easy cleaning and are also dishwasher safe.  It's designed to last a long time – up to an entire decade with proper cleaning and upkeep!
Pros:
Best manual meat grinder for bones
Stainless steel used throughout main components
Suction cup base and clamps are sturdy for when you get to work
Parts are easy to clean and dishwasher safe
Cons:
As with any manual meat grinder, this one requires manual labor which isn't ideal for high volumes.  Some people really do enjoy the manual workout though!
Sunmile SM-G50 ETL Electric Meat Grinder – Max 1.3 HP 1000W Heavy Duty Meat Mincer
Sunmile's SM-G50 ETL Electric Meat Grinder is another solid choice and comes with a lot of the built in safety features that I like to see in a meat grinder for bones.
The motor's output capacity is 1.3 horsepower or about 1000 Watts, making it one of the stronger motors on this list of best meat grinders for bones.  That's more than enough power to get through any bone you'd need to grind for your home made dog or cat food.
One thing that I'm not crazy about here is the plastic casing and aluminum grinder head.  It's not a huge deal, but generally speaking stainless steel is just stronger and more durable.  All of the most important components are stainless steel however (cutting blades and plates).
The safety features here are great.  The on/off/reserve switch is in an intuitive spot so you can easily take the proper course of action if you start to hear a jam.  There's also great ventilation to the motor and a circuit breaker in place to prevent the motor from burning up.
Pros:
Powerful motor that's well ventilated
Love the safety features here.  Good on/off/reverse switch and a circuit breaker
Very lightweight at under 15 pounds
Cons:
Plastic casing and aluminium grinder head could be higher quality and more durable
Kitchener Elite Electric Meat Grinder & Sausage Stuffer #12
Sometimes when comparing the best meat grinders for bones, it's hard to tell why some units are more expensive than others just by looking at them.  I'd say that's probably the case for the Kitchener Elite Electric Meat Grinder #12 also.
Just based on looks, it seems like a pretty regular grinder.  But "under the hood", it's one of the best designed grinders on this list from both how it operates and safety.  Power wise it has a 0.75 horsepower motor.
Everything about the Kitchener Elite is smooth.  Internally, a steel gear-driven mechanism design and maintenance-free air-cooled motor make the grinding part powerful and really quiet.  No loud obnoxious noises come out of this motor.  A circuit breaker, pretty much a must need, helps to keep things safe and prevent a ruined motor.
All of the main parts, including the housing of this unit is stainless steel.  Heavy-duty SUS304 stainless steel was used for the grinder head, auger, and meat pan.  A patented design removable drawer helps to keep your work and storage space tidy all the time.
The Kitchener Elite also comes in a #22 version with a 1 horsepower motor and an even more heavy duty #32 version with a 1.5 horsepower motor.  Each of these are also extremely well made and worth considering if you grind a lot.  They come with the added benefit of a reverse setting bit do cost considerably more.
Pros:
Powerful, sleek, smooth design
Very quiet while the motor runs.  A circuit breaker also protects from the circuit breaking.
Comes with an outstanding 5 year warranty!
Durable and will last you a very long time
Cons:
Reverse setting only comes equipped on their 1 and 1.5 horsepower models
KITMA Commercial Electric Meat Grinder
Commercial grinders by design are built to last and thrive even with heavy daily use.  That's exactly what the KITMA Commercial Electric Meat Grinder provides.  A grinder that you can use heavily every day without worrying about whether or not it can keep making pet food.
Ease of use is key here, and the design is set up to be as simple and intuitive as possible.  It's ETL certified and equipped to handle daily use.
The problem here is the price.  While this is extremely high quality and very durable, it just feels like there is better value elsewhere.  So if you like this one best and can afford the price tag then go for it, you won't be disappointed.  But we think you can find a better deal elsewhere.
Pros:
Powerful engine and designed for daily use.
Parts are high quality and made of stainless steel
Comes with a 1 year warranty
Cons:
Super expensive for what you are getting
Pretty heavy at 84 pounds
Giantex Electric Meat Grinder, 1.5HP
Giantex is a fairly reputable kitchen appliance company and they make a really nice electric meat and bone grinder.  Let's take a look at the Giantex Electric 1.5 HP Meat Grinder:
One thing I love about this meat and bone grinder is that its blades are fully enclosed as an extra safety precaution.  Stainless steel is the material of choice for casing and components, which as you know by this point is a great indicator for performance and durability.
Copper wires also power the electric circuits inside, minimizing the chance that something goes wrong with the motor or electric connection.
For clean up, the parts are dishwasher safe.
Pros:
Full stainless steel construction
Parts are removable and dishwasher safe
Enclosed blades is a great safety feature
Cons:
The body is hard to take apart for the clean up process
Best Meat and Bone Grinder for Pet Food – Buying Tips
That's a lot of information we just went over!  Here are a few tips and important things to look out for when you're comparing and making a decision.
Price
Obviously, price and budget are a large consideration.  Most of the best meat grinders for bones will start around $200 and the commercial grade ones can get near $1000.  You can find quality options at all parts of the spectrum.
Remember though, you get what you pay for.  Grinding meat and small bones is no easy task, and you're asking this machine to do it over and over to make your pet's food.  At the end of the day, look at it like an investment.  It's better to buy quality that will last vs something that will break.
Construction Material
Try to stay away from any grinder that has plastic components.  Plastic casing is alright, but anything else should be more sturdy.  Ideally the best meat and bone grinders are made of pretty much entirely stainless steel parts.
Safety
To make raw pet food you have to deal with blades, motors, and electric circuits.  Built in safety features are incredibly important.  It's ideal to have:
A reverse setting on your grinder to help in case a jam happens
A circuit breaker that will trip if something goes wrong.  This will prevent ruining the motor
Good ventilation or cooling systems to help keep the motor cool
Enclosed blades, or a meat loading system that doesn't ever require for you to place your hands too close to the blades
Best Meat and Bone Grinder for Pet Food – FAQ
What Are the Benefits of Raw Food For Pets?
Raw food for dogs and cats isn't a new concept.  It's made from fresh whole food ingredients in a perfect balance, such as: muscle meat, organ meat, whole or ground bone, raw eggs, and dog-safe fruits and vegetables.
There are actually quite a few widely accepted benefits to your pet eating raw food, including:
Healthy teeth and breath
Healthier coats and skin
Strengthens the immune system
Smaller and firmer stools with less odor
Increased energy levels
Leaner body mass
Are There Drawbacks?
Now, this topic is also not without controversy as many people, including veterinarians – believe that pets are capable of sustaining with a grain based diet.  If you are on the fence, do some research, consult your veterinarian, and decide what you think is best for your pet.
The other thing to consider is that a raw pet food diet will likely cost more than buying food from popular brands.  Making pet food yourself with a meat and bone grinder at home definitely cuts out some of that cost, but at the end of the day you are buying fresh foods which aren't cheap.
Is a Raw Food Diet Safe for my Dog or Cat?
Since raw pet food diets have been around for so long, yes, it's really safe!
The thing is, you should always be aware of proper handling any time you use raw meats.  Carnivores have short and highly acidic digestive tracts.  In short, that means their lots are designed to process raw meat which makes their risk for catching a foodborne illness pretty low.
As long as you're buying meat that complies with USDA guidelines and also handling the meat properly, you should be wonderful!  If you have any doubts please get in touch with your veterinarian.
How Do I Use a Meat and Bone Grinder to Make Dog or Cat Food?
The meat grinder is really just to take a whole piece of meat with bone in it and grind it down.  Most raw dog or cat food recipes use ground meats like chicken as a main component.  Here is one of my favorite recipes that you can use a meat and bone grinder to prepare the meats that are used in the video.

Best Meat and Bone Grinder – Wrap Up
I hope this article has been helpful for you to decide what the best meat and bone grinder is for your needs!  If you need to update your cat's bowls or feeding station check out the best cat water fountain and bowl dish here.  Serve away to your dog in the best metal feeder for dogs too!