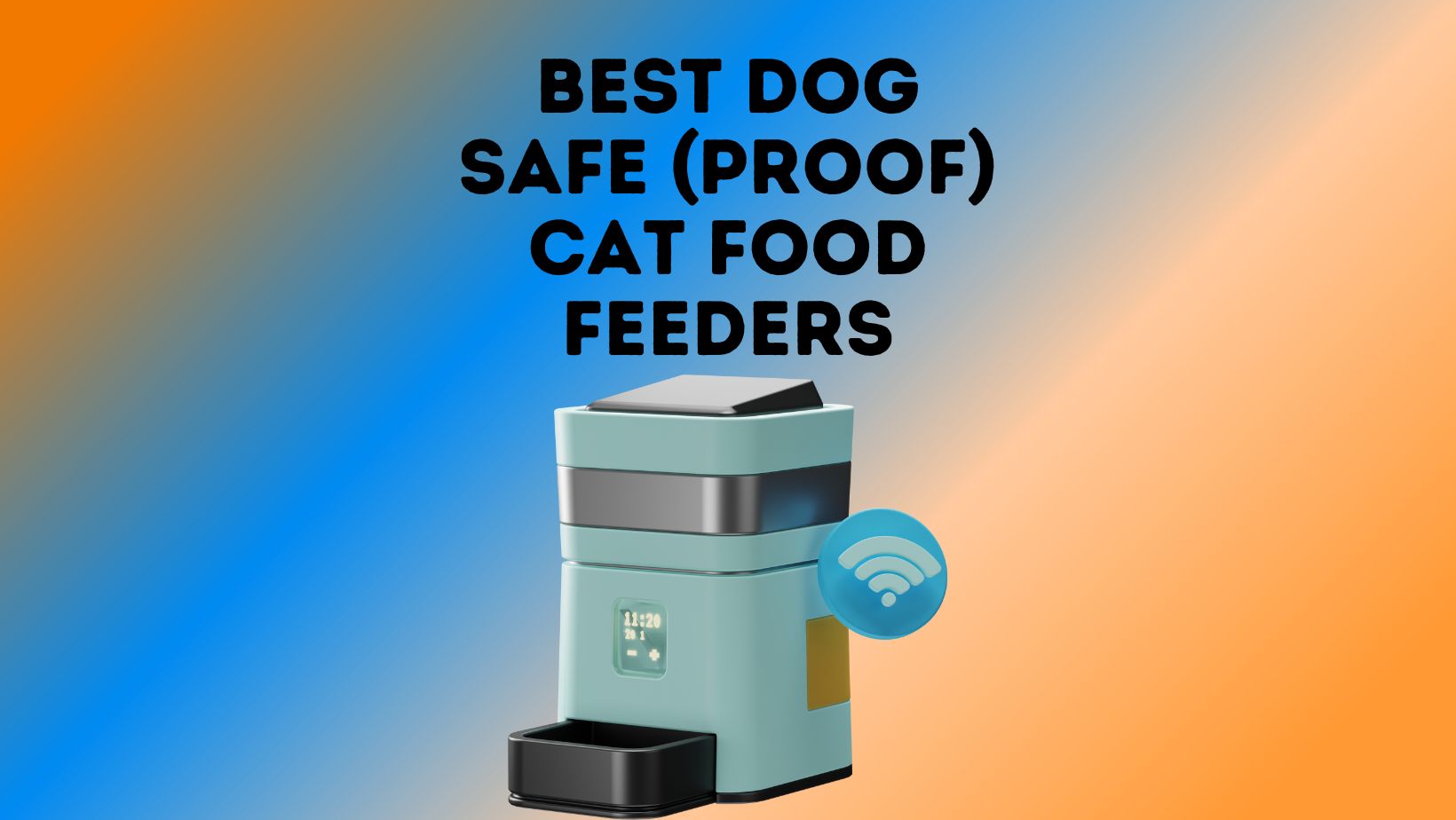 Is your dog constantly eating your cat's food?
There is a solution to this problem and we are here to present it to you!
You can get the dog proof cat feeder, and make your life and the life of your pets easier.
What Is A Dog-proof Cat Feeding Station?
When it comes to cats and dogs, sometimes it can be a bit challenging to live with both under the same roof. The main problem is usually stealing each other's food and since dogs are stronger, cats usually end up being hungry. That is why cat food station with dog-proof design was invented. These types of products use different technologies to selectively allow certain pets to eat and prevent others from eating what is not theirs.
Different Technologies Of Dog-Proof Feeders
These type of products have sensors that recognize the special collar tags or microchips on specific pets. That way when the cat is near, they will open and allow them to eat. However, if the pet without the collar tag or microchip comes near, the lid will not open. Also, they sometimes use special designs, such as smaller holes, which makes it impossible for dog heads to get through and reach your cat's food.
Fresh Food For Longer
Another benefit of this type of product is that the food will stay fresh for longer than with normal pet feeders. The reason for that is the closed lid that won't allow for the food to get in contact with the air. That can be quite convenient, especially for wet food which tends to go bad quicker than the dry food.
Dog Proof Cat Feeder Box
Felines Only Purrrfect Cat Dish
The first one of the dog-proof cat feeding station models we are going to mention here is by the brand Felines Only. It is the perfect cat dish that will help to keep your dog away from your cat's food. It is a bit different since it isn't the microchip or collar tag but still fits into the selective feeder category.
It comes with a plastic lid that has holes in it, which is wide enough for cat's heads. Dogs, however, won't be able to stick their head through it. Also if you have a smaller dog and you are worried they might be able to pass their head through the hole, don't worry as dogs eat their food in a different position than cats so this is a 100% cat feeder.
This dog-proof cat feeder was designed to be sturdy and also to prevent all bad odors and spills from happening. That way your floors and carpets will be protected. There are two bowls included which means you can use it to feed two cats at the same Time. The bowls are made of plastic and can even be washed in the dishwasher to save you some extra time. If you want to carry this dog-proof cat feeder box, you can do that by simply grabbing the external handle it comes with.
Another benefit is the rubber pads that are included in the package as well as the double face tape and screws. That way this dog-proof cat food bowl will stand in one place no matter what. One of the downsides is the fact that the lids are not sealed, so the food will be exposed to the air all the time. That means that you will have to replace it very often, otherwise, it might go bad.
Pros:
Designed for cats
You can use it to feed two cats
Cons:
Elevated Cat Feeder Dog-Proof
Our Pets Smart Link Intelligent Pet Care Selective Feeder Automatic Pet Bowl
The next one of the dog-proof cat bowls is the elevated cat feeder with dog-proof design by the brand Our Pets. It is their Smart Link selective automatic feeder that uses modern technology to make sure only a specific pet eats their food. The product is therefore perfect for any household that has more than one pet, especially if you have dogs who tend to eat your cat's food.
This smart cat feeder comes with the OurPets Intelligent PetLink smartphone app you can easily download on your phone for free. You will also get the Bluetooth pet health system which will monitor changes in your pet's behavior and send you notifications. All you need to do is have a Wifi connection in your home and a smartphone where you can download the app. You can see how much food your pet has eaten and are they undereating which can be a sign of an illness.
The selective feeder comes with one SmartLink tag that you can put on your pet. That way whenever your pet is near the feeder, the lid will open and they will be able to eat. If any other pet comes near the feeder, the lid will not open. Aside from being great for preventing pets from eating each other's food, it is also great for keeping small kids from eating pet's food as well. You can buy more SmartLink tags separately if you need to.
The capacity of this dog-safe cat feeder is 1.5 cups of dry food and since the lid is closed most of the time, the food can last longer without going bad. The bowls are made of stainless steel and can be removed and washed in the dishwasher. You also get a two-year warranty from the manufacturer in case something goes wrong.
Pros:
Connect it to your smartphone
Selective feeder design
Cons:
It has one small bowl and lid
Large Dog-Proof Cat Feeding Station
Wireless Whiskers AutoDiet Pet Feeder
The next dog-proof cat feeding station we are going to mention is by the brand Wireless Whiskers. Is an automatic cat feeding station to keep dogs out. It doesn't use microchips, but collar tags to recognize the pet who is wearing them when they are near the bowl. Unlike most of these type of products, which come with only one collar tag, this one comes with two. It also has a good capacity which is why you can use it for bigger pets as well.
You can also buy the additional collar tags and use it for up to 8 pets in total. If you use it for more than one pet, you cat set individual diets for each one of them. This dog proof cat feeding station large is 18 inches tall which makes it suitable for cat and dogs.There is the ability to schedule up to 24 meals a day, which will prevent your pet from overeating in one meal a day. It was designed mostly to be used with dry pet food.
The lid on this cat food station dog-proof will not open only when the pet with the collar tag comes near. But one of the downsides is the fact that the pet needs to be in the specific spot for the sensor to recognize the collar. Also, if you have a very determined pet, they might be able to break into the feeder.
Pros:
Large food capacity
Set up to 8 collar tags
Cons:
Dog-Proof Cat Dish
SureFlap Microchip Pet Feeder
Another product we are going to share with you today is the dog-proof cat dish by the brand SureFeed. It is a selective feeder which is great from keeping the dogs out of your cat's food. This dog proof cat food dish works with microchip technology to recognize the pet who has it and allow them to eat their food. It also works with the RFID collar tag to recognize the specific pet who is wearing it. Ideally, you should use one of these feeders for one of your pets.
The capacity of this cat feeder to keep dogs out is 13.5 fluid ounces. One of the major benefits is that you can use the feeder for wet and for dry food. Since the lid is closed most of the time the food can stay fresh for longer. Depending on how much food your pet eats, it will depend on how often you will need to refill it. The bowls are removable and can be washed in the dishwasher as well.
This RFID cat feeder is compatible with the 9 (Avid Secure), 10 (FDXA) and 15 (FDXB) digit microchip numbers. An additional benefit is the one button programming which isn't complicated at all. You will also get the user manual where you can read all of the instructions on how to use it. In case of any defects or manufacturing problems, you will get a warranty that will last you for three years.
The dimensions of this dog proof cat bowl are 12.6 x 9.1 x 7.9 inches and it weighs only 2.2 pounds. Therefore it will not take up too much space. It has a very modern and sleek design and it will fit into almost any home décor.
Pros:
RFID system
Good for wet and dry food
Cons:
Check Price on Amazon
Read More
Cat Food Stand To Keep Dogs Out
PortionProRx Automatic Pet Feeder
The next model we are going to mention is a cat food stand that is manufactured by the brand PortionProRx. It is actually designed households where there are multiple pets that tend to steal each other's food. There are many great features that come with this product, and in this review you can read all about them.
The great thing about this product is the fact that you can schedule meals for your pet and the size of the portions. That way you can prevent your pet from gaining too much weight. It is also great if you work a lot and can't seem to find time to feed your pet multiple times a day. The capacity of the feeder is 32 cups of dry food only and you can schedule the maximum of 6 meals per day. You can also press a button to scroll through and see the last few meals your cat has eaten.
This feeder works with a tag system that is similar to the microchip system but has a longer range. When your pet with the tag comes near the feeder, the sensor will recognize it and they will be able to eat from it.You will get only one tag and if you want more, you will have to buy them separately. The doors that open and close use low force, which means they won't harm your pet in any way. When the lid is closed it also prevents small children from getting into your cat's food.
The food bowl is made of ceramic which is very hygienic and it will prevent microbes from collecting on it. Also all the parts that come in contact with the kibble can be easily removed and washed with soap and water. All other parts are made with plastic which is safe for your pet's health too so this is a safe pet feeder.
Pros:
Large food capacity
Has a longer range than RFID models
Cons:
You have to buy more tags separately
Dog Proof Cat Feeder DIY
Aside from buying a dog proof cat feeder, you can also DIY dog proof cat feeding station. If you are quite creative and have time for a side-project that can be a lot of fun, we definitely recommend it. One of the benefits is that you will be able to customize it so it is perfect for your pet, and no one will have a similar one. You can find many interesting ideas on how to make a DIY dog-proof cat feeder it in the article here.
Conclusion: What Is The Best Cat Food Station (Dog-Proof)?
We think that the SureFlap SureFeed dog-proof cat food bowl is the best one on the market so far. It comes with many great features that will allow only specific pets to eat from it. You can also use it for wet and dry food, which will stay fresh for longer. There are a microchip and collar tag technology you can use, depending on which one you prefer. Overall it is a great feeder which will make sure your dogs stay away from your cat's food and vice versa! If you don't need a dog-proof feeder, then I recommend you to read my post about automatic cat feeders, or even automatic dog feeders. If you aren't sure which is the better choice for you then check out my post about best-quality automatic feeders right here!