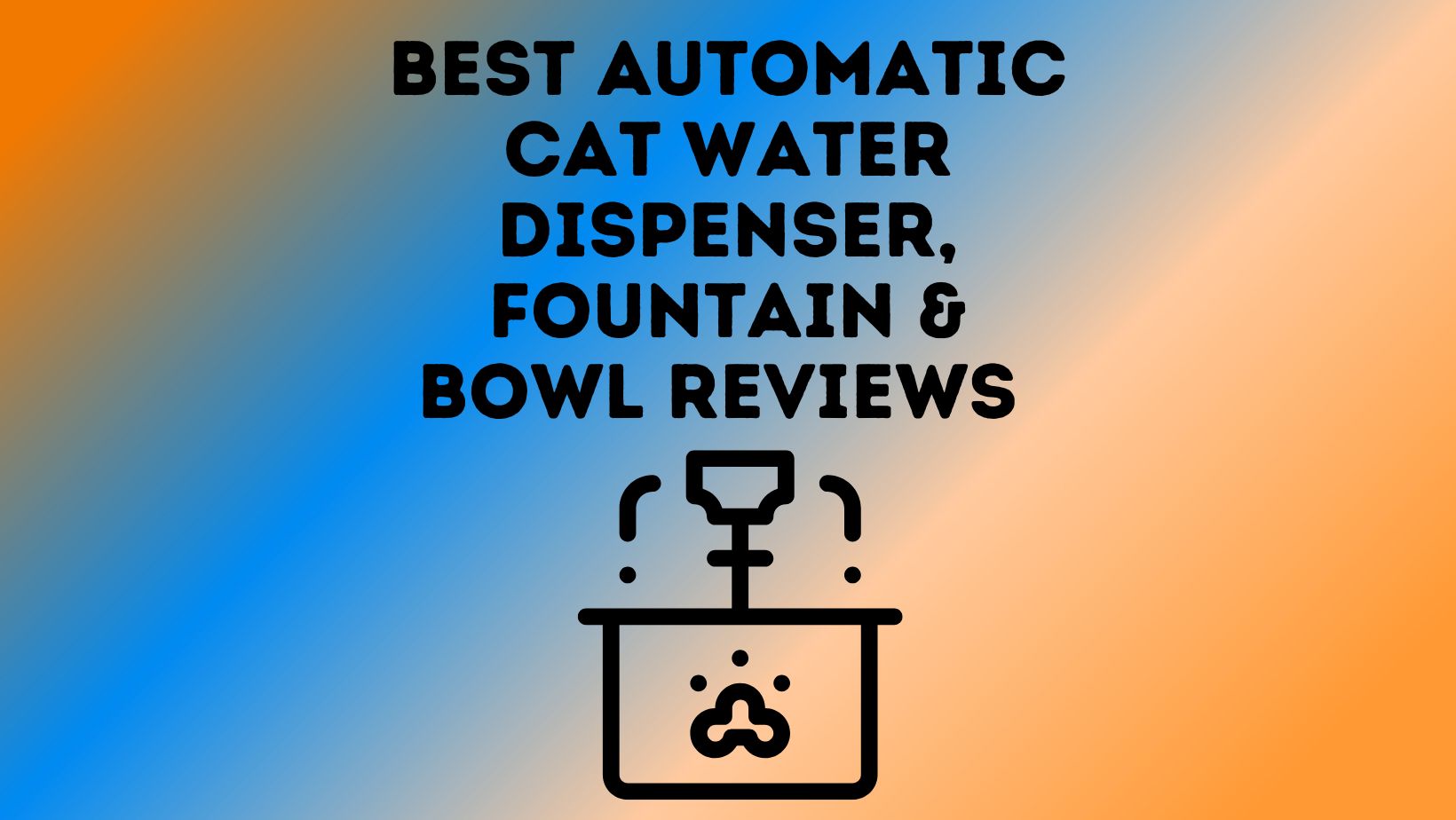 When you're buying cat food, you probably always make sure that it's a high-quality choice. In today's modern times, many cat owners even own automatic feeders that help them manage their cats' eating habits. On the other hand, most cats get their water out of a simple bowl.
This is honestly a shame, because cats can be so quirky when it comes to drinking water. They might even refuse to drink water if the conditions aren't up to their standards. For example, many cats will only drink running water, because they associate still water with contamination. If you've ever seen your cat drinking from the kitchen tap, now you know that there's an evolutionary reason for this behavior.
Also, if you're often away from home for longer periods of time and you leave a bowl full of water for your cats, it's almost certain that your cats won't drink it because that water will go stale. Adult cats on a dry food diet require about a cup of water a day, and if they don't get enough, it could have terrible consequences for their health.
It's time to face it —your old cat water bowl just isn't cutting it anymore. If you want to ensure your cats get enough fresh water, an automatic cat water dispenser will be a great investment. They automatically dispense fresh, clean water when your cat needs it, so you don't have to worry about it going thirsty in any circumstances.
There is a great number of automatic cat water fountains on the market. Your choice needs to depend on things such as your cat's drinking preferences, how many cats you have, as well as your schedule and lifestyle. With so many options, it can be hard to make the right choice. That's why I have put together this list of the top 5 automatic cat waterers.
Cat Mate Pet Fountain
This automatic cat fountain is designed to encourage your cat to drink. It provides fresh, flowing water, so it will be a great choice if your cat prefers to drink running water. It features multi-height drinking levels, to allow your cat to find the drinking position it is most comfortable in. This also means that multiple pets can use it, even smaller dogs.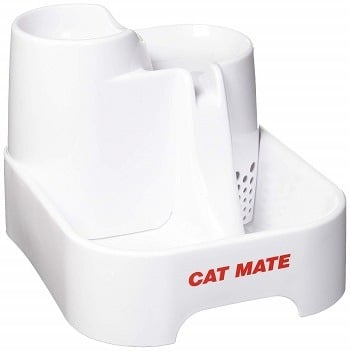 In designing this automatic cat waterer, Cat Mate put a special focus on making it run quietly. This can be very important because some cats can get scared of the noises some automatic cat food and water dispensers make, and will therefore refuse to use the product. Imagine spending money on a pet product that your pet won't even use —this is the situation the Cat Mate Fountain is trying to avoid.
The automatic cat water dispenser has one replaceable polymer/activated carbon filter cartridge. Its purpose is to keep the water clear, fresh and odor-free. You will also need to change the water less often if you use a filter. The filter needs to be replaced once a month.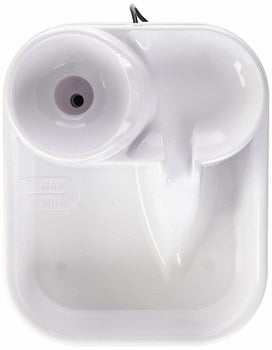 The automatic water bowl for cats is removable and dishwasher safe, making cleanup simple. The pump also needs to be cleaned every few weeks. Thankfully, the fountain comes with detailed instructions on disassembling and cleaning the pump. When you take into account changing the filters, cleaning the bowls, and cleaning the pump, you realize that the maintenance can be a bit bothersome, but you know your cats are worth it.
Pros:
It has multiple drinking levels.
It comes with a filter, and it's quiet.
Cons:
It requires a lot of maintenance.
PetSafe Drinkwell Platinum Cat and Dog Water Fountain
This automatic water feeder cat by PetSafe features a free-falling stream of water. Thanks to its water pump, the flow of the water stream can be easily adjusted to your cat's liking. The automatic water bowl for cats can hold up to 168 oz. of water, which is more than enough for multiple cats.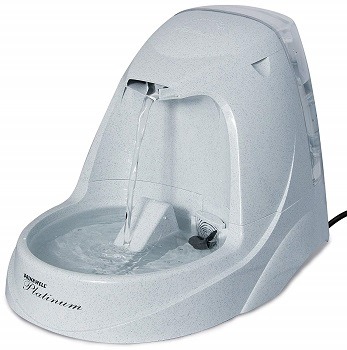 The product is made out of BPA-free plastic that won't harm your cat's health. PetSafe is a trustworthy brand you can count on to deliver a high quality pet product. This auto cat water fountain also comes with a replaceable carbon filter that keeps water fresh and removes bad odors. You will need to disassemble and thoroughly clean the water pump once every two weeks. Detailed instructions on how to do this come with the product.
The filter will also need to be replaced regularly. Just like with the previous product on the list, maintaining this automatic cat watering system is a bit of a chore. This is especially the case because the inside is a bit impractically designed, with many nooks and crannies that can be hard to get to while cleaning, but you absolutely need to clean them if you want your water fountain to last. Another problem is that the water bowl doesn't have high edges, so the water can spill out.
Pros:
It has an adjustable flow.
It comes with a carbon filter.
Cons:
Cleaning can be bothersome.
Sometimes the water will end up on your floor.
---
PetSafe Healthy Pet Water Station
The next automatic water bowl for cats on this list also comes from PetSafe. This one is a gravity waterer. This means that you don't need plug it into your wall socket for it to work. It uses gravity to provide a supply of fresh water. The good thing about gravity waterers is that they're very simple to use and maintain. On the other hand, they don't have as many features as most automatic pet fountains do.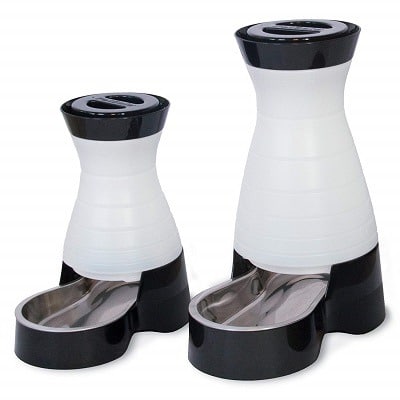 This automatic cat water dispenser is available in three sizes: 64 oz., 128 oz. and 320 oz.  The water bottle is sturdy and locks in place to prevent spills. It doesn't come with a water filter, but you can separately purchase the Healthy Pet Water Filter that removes chlorine, sediments and odor from water.
If you don't use a filter, you're going to have to replace the water approximately every other day. In my opinion, it's easier to just buy the filter, as it saves a lot of time and you won't need to worry about the water going bad. The good thing is that it is a automatic cat food and water dispenser so you can have a matching set.
The auto cat water bowl is made of stainless steel, which is the best material for pet health. The water bottle is made of BPA-free plastic, another pet-friendly material. The stainless steel bowl is removable and dishwasher safe, and the water bottle has a wide opening, making cleanup really quick and easy.
The automatic water dish for cats is also really easy to refill, due to the Water Flow-Control Valve, which prevents water from spilling during refilling and carrying. The only problem I see with it is that it doesn't have rubber bottom, so it slides across the floor, and your cats can drag it around once the water level is low, and the whole waterer becomes lighter.
Pros:
It's easy to refill and maintain.
You can get automatic cat food and water dispenser and have a set.
Cons:
It doesn't come with a filter.
It slides across the floor.
---
Catit Flower Fountain
Catit is a brand that always amazes me because their products not only work great, they're also always very creative and unique. They also specialize in making products only for cats, so definitely take their Flower Fountain into consideration.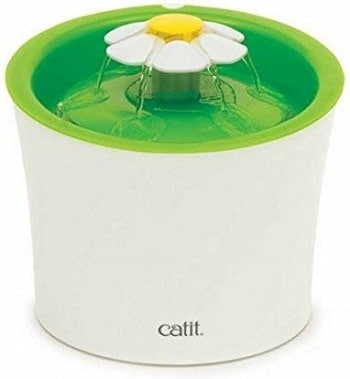 This auto cat water fountain owes its name to the flower accessory that consists of petals and a yellow flower cap and is actually used to change the water flow settings. Inserting the flower petals accessory creates long, faucet-like streams of water. Adding the flower cap will tone down the bubbling water on top. Without the flower, the water turns into a gently flowing surface.
You can adjust the settings according to your cat's preferences. This whole design is not only smart, but it also looks very cute. The rest of the automatic cat fountain is green, to fit with this whole nature theme. All in all, the aesthetically pleasing design of this cat waterer definitely works in its favor.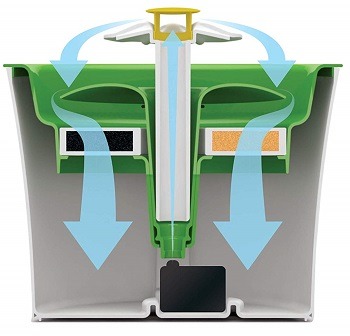 The fountain features the Catit Triple Action filter, which removes magnesium and calcium from tap water. If these minerals accumulate in your pet's urinary tract, they can lead to infections and diseases. The filter also removes chlorine, bacteria, and stray hairs. One filter will work for about 30 days.
To clean the auto cat waterer, you need to hand-wash each part with natural soap. The only problem that I see with this waterer is that the water pump can get really noisy when the water runs low, and this might scare your cats. To prevent this, clean the pump regularly and refill the fountain with water.
Pros:
It comes with a water filter.
It has three water flow settings and it looks really cute.
Cons:
It can get noisy when the water runs low.
---
Petmate Replendish Gravity Waterer
The last pet waterer on my list is another gravity waterer, which comes from Petmate, a big name in the pet products market. It comes in 4 sizes: 0.5 gallon, 1 gallon, 2.5 gallon and 4 gallon. If you only use it for cats, you won't need the two biggest sizes.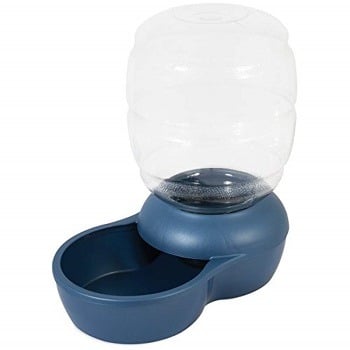 To prevent the buildup of stain and odor-causing bacteria in the water bottle, the auto water dispenser for cats features Microban Antimicrobial Product Protection. It also comes with an included charcoal filter that prolongs the time before you need to replace the water. Additional filters can be purchased separately.
Once again, you can use it without a filter, but you'll need to change the water more often. When you do need to refill and clean the water bowl, you can easily unscrew it, wipe it clean by hand, and refill it with water. Just be careful not to spray water everywhere when screwing the bottle back. That's because the water bottle can get heavy once it's full of water.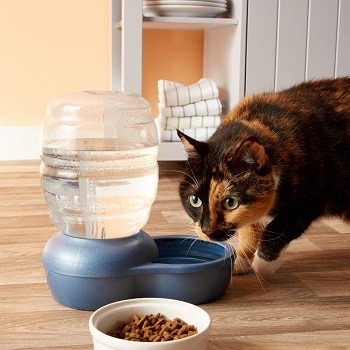 This waterer can also be used outdoors. This is great if you have outdoors cat, because it allows them to drink the water when they get thirsty outside. The automatic cat water dispenser comes with a wide selection of different colors, so feel free to choose your (or your cat's) favorite. The bottle is made of BPA-free plastic, a material which isn't harmful to your cat's health.
Pros:
It comes with a filter and Microban protection.
Cons:
It can be hard to refill.
---
Conclusion: Best Automatic Cat Water Dispenser
If you only need a cat waterer, I recommend the Catit Flower Fountain because you can adjust the flow to your cat's desires. But, if you are looking for an automatic cat feeder and waterer, I would recommend checking out the PetSafe automatic cat food and water dispenser because you can have two feeders and waterers that look the same. If you want to schedule the feeding time, you should consider reading my post about cat feeders with timers, or you can check out my post about automatic cat feeders in general.