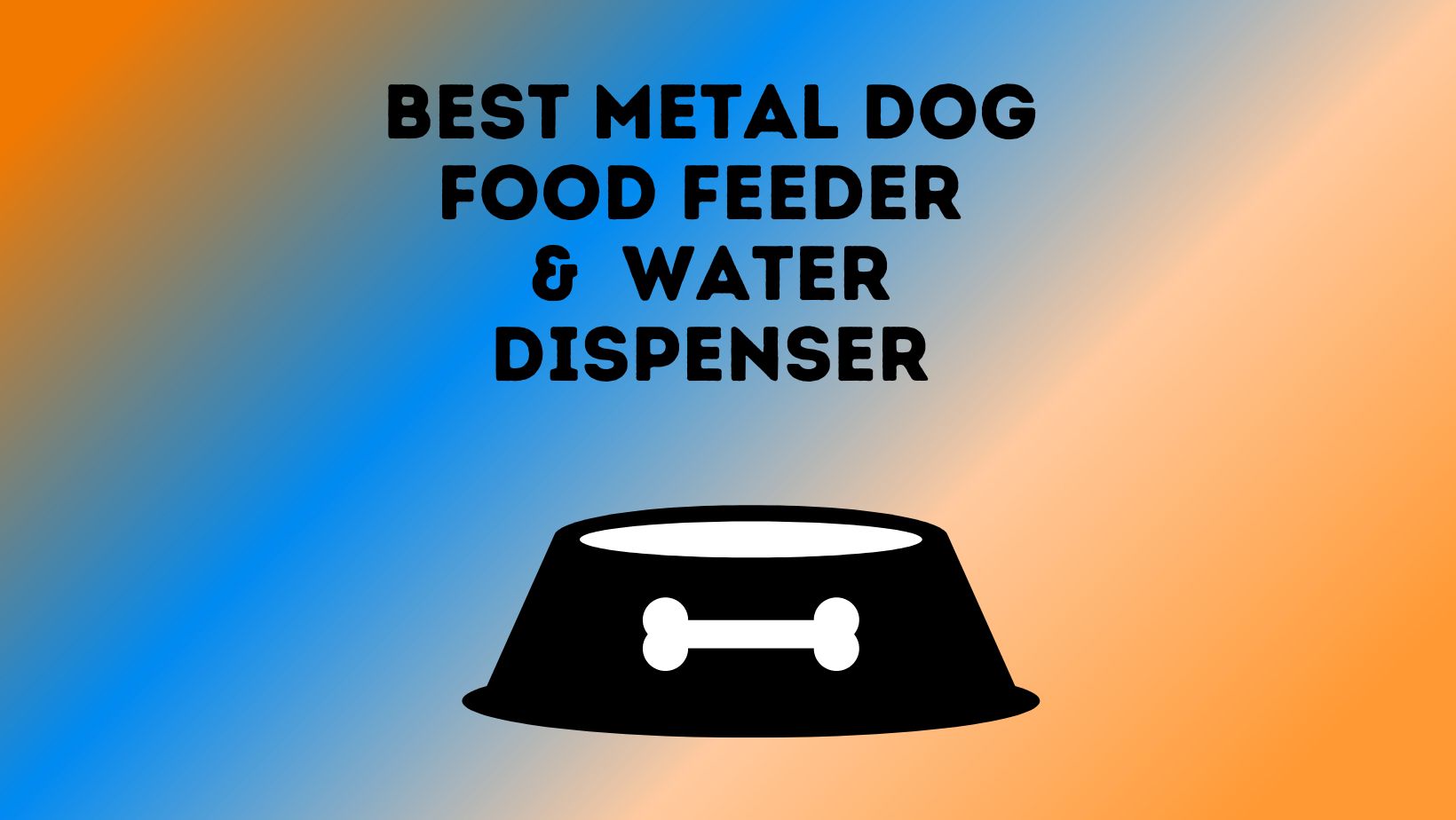 Pet food bowls and feeders are nowadays available in a wide assortment of sizes and materials. Many people's pet feeders are made of plastic materials because they are not so expensive and they come in many different colors as well as sizes. But plastic bowls are not the best option for your pet's feeder because they aren't very durable, and can also be harmful to your dog's health.
The best option would be a metal dog feeder, more precisely a stainless steel dog feeder. Metal dog food dispensers made of this kind of material have many benefits. They are durable and long-lasting as they are made of high-quality materials. Most of them are dishwasher safe which makes them easy to clean and it will also save you some time. Because they are heavy-duty materials, they can be used outside as well, not just inside. The best stainless steel bowls have the non-skid rubber on the bottom and they will not move around as your pet eats. They will also prevent your floors from getting damaged.
Because they are made of stainless steel, they are heavier than the plastic ones, which means your pet won't be able to knock them over as easily and make a big mess. Sometimes they have an elevated design, which is good if your dog has arthritis, back or neck pain. The elevated design also helps to improve your dog's digestion.
One of the downsides of these kinds of feeders is that sometimes their capacity isn't as big, which can be a problem if you have a bigger dog, because the bowl then has to be constantly refilled. But some of them do come in a few different sizes so that you can choose the right one according to the size of your dog.
Here I made five reviews on the top five metal dog feeders by five different brands. Most of them come in a set of two bowls when you purchase them, therefore can be used for food and water at the same time.
The Best Metal Dog Feeder Models on the Market
Mlife Stainless Steel Dog Bowl with Rubber Base
This metal dog food feeder bowl by the brand Mlife is made of stainless steel material and is polished to a mirror sheen. The high quality, steady material and durable offers a healthier alternative to plastic and doesn't hold odors and bacteria plus it helps to make mealtimes less messy. It features a flat bottom design that helps to prevent pets from tipping the bowl over.
The base of this dog stainless bowl is made of rubber which is great for effectively reducing the noise as well as siding while your pets eat and it is great for protecting your floors from getting scratched as the bowl moves around. The rubber base is also removable which will allow you to clean the hidden particles of food and reduce the risk of disease for your pets.
This product is dishwasher-safe which will save you some time cleaning it. When you purchase this bowl you get a set of 2 stainless dog bowls and if you aren't satisfied with it after you purchase it you can replace it or you can get your money back.
One bowl could be used for the food and the other one for water. This medium-sized stainless steel dog water dispenser has a top diameter of 6.3 inches, the bottom diameter of 8.5 inches and a height of 2 inches. The net weight of this feeder is 5.4 oz. The capacity for one of the bowls is 2 cups which equals to 10 oz, therefore is great for animals that weigh less than 14 pounds. It can be used for dry or wet food or even treats
Pros:
You get a set of two bowls – one can be used for food and the other one for water
Made out of stainless steel which is healthier than plastic
Rubber base reduces the noise
Cons:
The capacity of each bowl is quite small
They aren't slide proof
---
Metal Dog Food And Water Dispenser
EZPETZ Large Dog Bowls
This set of two metal dog feeder bowls by the brand EZPETZ has the capacity of 51 oz. This set of bowls provides a convenient storage for both food and water. The dogs usually need almost one ounce of water per pound of body weight a day which makes this bowl ideal for dogs over 50 pounds and provides more than a day of water for smaller dogs. It is one of the largest sized dog bowl feeders on the market.
The stainless steel dog water dispenser also has a non-flipping silicone mat which helps to prevent the bowls from skidding on the floor and it also helps to prevent your dog from moving the bowl around when eating or drinking. There is also a no-spill, long lasting eco-safe silicone mat which catches the spills so your floor will not get messy. The high quality, durable stainless steel dog feeder is preferred by the vets as it does not hold bacteria and is easier to clean.
These bowls are made in the USA, and they are dishwasher safe, which will save you some of your time. This product comes in three different sized- small, medium and large. The small one has a capacity of 16 oz., the medium one has a total of 25 oz., and the large one has a capacity of 54 oz. There are three color options for this product- black, pink and blue.
Pros:
The set consists of two bowls
There are three sizes available depending on the size of your dog.
It is made out of stainless steel, which is durable and long-lasting.
Cons:
You have to refill the bowls yourself.
---
Elevated Metal Dog Feeder
Premium 12″ Elevated Dog Pet Feeder
This is another stainless steel pet feeder model by the brand Pawfect Pets. It includes a sturdy stand which will prevent the food and water to end up all over your floors. This elevated metal dog feeder weighs 8 lbs which prevent the dog from knocking it over and making a big mess.
The silicone rings help to keep the two stainless steel bowls securely in place, preventing them from being nudged, tipped over or moved around. This metal-raised dog feeder is suitable for dogs and cats with arthritis, and neck or back problems find it a relief, and it also helps to improve their digestion as they no longer have to eat from the ground level.
The capacity of each of the bowls is 56 oz, and they are made of stainless steel, which makes them easy to clean and more hygienic. When you purchase this stainless steel elevated dog feeder you will also get an additional two bowls, so you can always have a pair of clean bowls to use. This feeder has an attractive design which will look great in almost any home.
If you aren't satisfied with the product for any reason, you can quickly return it without any problems. The dimensions of this product are 18 x 9 x 12 inches, and it weighs 9.9 pounds. The stand on this metal feeder is made of high-quality wood. There are three different sizes of this product- small, medium and large which you can choose depending on the size of your dog.
Pros:
Made out of stainless steel, which makes the bowls more hygienic
The elevated design is perfect for your pet's health.
Cons:
It does not include a timer
---
Metal Raised Dog Feeder
Neater Feeder Express Pet Bowls
This Neater Feeder metal dog feeder bowls are made to be mess-proof because the spilled food is separated and contained at the top, while the spilled water into the catch basin below to help to keep the feeding area clean. That will also help to protect your walls as well as floors from getting dirty. It is made mostly for smaller dog breeds that are up to 9 inches at the shoulder and that weigh up to 18 lbs.
This metal dog water dispenser is 100% dishwasher safe, saving you some time cleaning it by hand. It also features rubber feet that are non-skid on the bottom of each leg which helps to prevent sliding around while your dog is eating. The bowl's capacity is 1.5 cups each, and the slot diameter is 4.5 inches.
The measurements of this product are 12.9″ x 8.8″ x 4.8″, and the feeding height is 2.75″ from the floor to the rim of the bowl. That kind of raised design is perfect and much healthier for your pet. This product is proudly manufactured in the USA. It features additional extension legs that are incompatible with Express Model, only with the Deluxe Model. Because it is made of durable and long-lasting material, it can be used inside and outside.
Pros:
Made out of high-quality, durable stainless steel
Made to be mess-proof
Made in the USA
Cons:
The size of the bowls and their capacity isn't huge.
---
Metal Slow Feeder Dog Bowl
Top Dog Chews Brake-Fast Slow Feed Bowls
This stainless steel dog feeder includes the three prongs in the center of the bowl, which help to the bloating by forcing your pet to slow down. The three pongs are screwed in and made of stainless steel, requiring your dog to work around them.
Therefore it will be almost impossible for your dog to eat extremely fast. It is recommended by veterinarians as it can improve portion control, which is ideal for dogs that tend to over-eat. This metal slow-feeder dog bowl has a no-slip ground around the bottom of the bowl that helps to keep it secure while your pet enjoys its meal.
It works well with canine kibble or wet pet food. This feeder is not dishwasher safe and is advised to be washed by hand. It is made of stainless steel for easy and hassle-free cleaning. You can purchase this product in three sizes- small, medium and large.
The capacity of the small one is 16 oz., the capacity of the medium one is 64 oz. and the capacity of the large one is 96 oz. You can choose the one that suits you the best, depending on the size of your dog and how much food they eat.
Pros:
It can be used for dry or wet dog food
Includes 3 stainless steel prongs which make your dog work around them and therefore eat slower
It comes in three different sizes
Cons:
It is not dishwasher safe
Conclusion: Best Metal Dog Feeder Is…
If you have a large dog, then I would recommend the elevated metal dog feeder as the best choice because it is easier for dogs to eat from an elevated dog feeder. But, if you have a small pet (cat or dog), you can go with bowls like EZPETZ Dog Bowls because they have a special silicon mat for food and water that escapes from the bowls. But if you want to ensure your dog has food all the time, visit my post about automatic dog feeders. If you have the same problem but with cats, read my post about automatic cat feeders or automatic feeders in general.