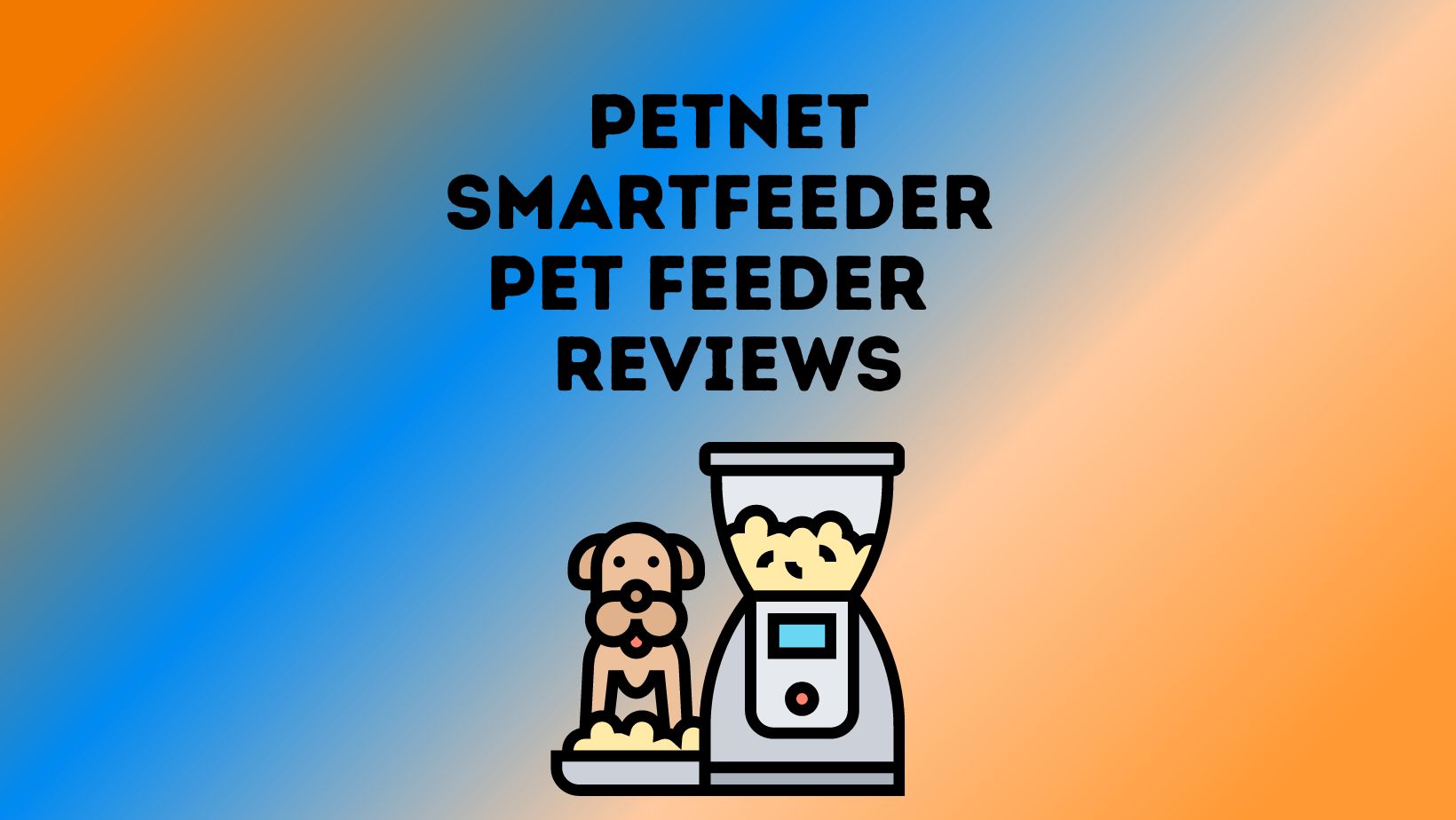 Have you been curious about the Petnet feeders or other pet-related products?
We are here to help you out! This short article will include information about the brand itself and three short reviews on their best selling pet feeders. Hopefully, we can show you why the Petnet products are the way to go for your pet and yourself as the owner.
About The Company
Petnet is another well-known American company founded in 2012. They specialize in pet products and finding new smart solutions when it comes to feeding your pets. The company has its headquarters in Los Angeles, California, but their products are available all over the world. They were the first brand to come out with a smart pet feeder device that keeps your pet on an eating regime even when you're not around. It has many benefits to your pet's health, well-being, but to your own stress levels as well.
Petnet Android And iPhone App
The new technology that they use on their products includes the Petnet app that can be downloaded on your smartphone. Not only will you have the ability to reschedule your pet's meals, but also to do it whenever and wherever as long as you have your phone with you. The app uses the information about your pet to create a customized meal plan for them. There are also constant notifications that will remind you to schedule the feeds and check on your pet so it is much more than just a pet feeder.
For Different Pet Types
There is no such this as the specific Petnet dog feeders or specific Petnet cat feeders. All of their automatic pet feeders you can use for cats and for smaller to medium sized dogs. Bigger dogs might have a problem with their feeders as the capacity is not enough to last them a couple of days, which is why it isn't recommended for them.
Petnet SmartFeeder, Automatic Pet Feeder for Cats and Dogs
The first one of the Petnet smart feeder model we are going to mention in this review is their Petnet automatic pet feeder. This one has a very modern design and comes with impressive features and performance. It will make your pet happy and full and your life easier and less stressful. It is especially great for all of those pet owners who don't spend as much time at home with their pets. There are some older versions of this model, but here we are going to review the newest upgrade from 2017.
This Petnet automatic pet feeder can be connected with the Petnet app. The app can be downloaded on your phone for free after you purchase the feeder. That way you can control the feeding times, amount of food and also monitor your pet's activity, weight, etc.
There is also the ability to connect this Petnet smart feeder to Alexa. Also, another great feature is the ability to track the amount of pet food you have left in your home and ordering more if you are running low. That way the app automatically keeps track of everything related to your cat or dog.
One of the downsides of such a product is the fact that it doesn't include a camera which would allow you to see what your pet is doing. But if you want to you can always connect it with your Nest and solve the problem that way. The dimensions of this Petnet feeder are 22 x 12.6 x 12.3 inches and it weighs around 11 pounds. That means your pet won't be able to knock it down and make a mess all around.
Pros:
Connected to a smartphone app
Personalized nutrition for your pet
Cons:
There is no camera included
Petnet SmartFeeder (2nd generation) – Automatic Wi-Fi Pet Feeder
The next Petnet smart feeder review is an another automaticfeeder. This model is very similar to the previously reviewed model but has some slight variations. It is also connected with the Petnet android and iPhone app that allows you to control your pet no matter where you are. The only thing that is required with this model is to have the wireless router 2.4GHz (802.11b/g/n).
The Petnet app on this smart pet feeder will come up with the personalized nutrition plan for your pet that is base on the information such as their age, breed, weight, daily activity levels, etc. It will make sure your pet is eating right sized portions, and not over or undereating. The app will also offer you notifications whenever your pet was fed or if your food stocks are getting low and it needs to be refilled.
The container is removable and can store anywhere between 5 and 7 pounds of dry food. It is not recommended for you to use wet food with this pet feeder. It also comes with a pet-proof self-locking lid that will prevent the air to enter the container. That way the food inside can stay fresh for longer periods of time. The bowl on it can be removed and washed separately and free of germs and bacteria. You can also wash it in the dishwasher if needed.
The bowl is made of metal and isn't harmful to your pet. It can hold about 2.5 cups of dry food. The dimensions of this product are 16 x 9.5 x 14 inches and it weighs around seven and a half pounds. Due to its capacity, it is not recommended for any pet that has over 60 pounds. It works with built-in rechargeable batteries which can last for up to two days. Warranty for this automatic pet feeder lasts for one year.
Pros:
Offers personalized nutrition
Connected with an app
Cons:
Petnet SmartBowl
The next Pet net feeder is actually the Petnet smart bowl. That is a product that is much more than a regular eating bowl. It uses innovative technology to adjust the pet's nutrition according to the activity, breed, and lifestyle.
The Petnet smart dog food bowl uses the Petnet app on your phone where it creates a specific profile for your pet. With all the information such as the age, breed, weight, activity levels, etc, it customizes your pet's portions and makes sure your pet is never overfed. The app will notify you when your pet has been fed, how much of their food you have in the stock, battery levels, etc.
The dimensions of this Petnet pet feeder are 2.4 inches in height x 7.24 inches in width and the same for height. The capacity of the bowl is 2 and a half cups of pet food. A great benefit is a fact that it can work with both dry and wet pet food.
The dog bowl has a built-in rechargeable battery included and you will also get the USB cable and an AC adapter to make sure you can recharge the batteries. In the box, you will also get the stainless bowl insert and a user guide with all of the Pet net instructions. The bowl is compatible with the iOS 9.0+ / Android OS 4.0+ software. There is also a one year warranty and a lifetime customer support included.
Pros:
Customized meal portions
Built-in rechargeable batteries included
Connected with the app
Cons:
Food is out in the open
No meal scheduling
Petnet Replacement Parts And Repair
All of the mentioned Petnet products come with a one year warranty. That means that free repair or replacement is guaranteed in case of any manufacturing defects. We would not recommend you to try to repair the product yourself if there are any problems with it. There are certain replacement parts such as the AC adapters, additional bowls or mats that can be purchased separately from the official website and youc an try to look for universal pet feeder parts, but I am not sure if there are any for smart feeders.
Petnet Manual and Instructions
To know exactly how to use and maintain the product, you can read the user manual that comes with each product. There is a physical copy included in the package, but you can also find an online version here.
Conclusion: What Is The Best Pet net Feeder For Cats And Dogs On The Market?
After reviewing all of the available Petnet products, it was hard to choose the best one. However, the Petnet smart feeder from 2017 which was first reviewed is the best one in our opinion. The reason for that is the fact that it can be connected with the smartphone app. It also has a good overall capacity and reasonable price. Definitely a model worth checking out if you are looking for a good quality automatic pet feeder. If you are interested in some simpler pet feeders like a gravity pet feeder or an automatic dog feeder, read my post about best pet feeders and see al the types there are on the market.