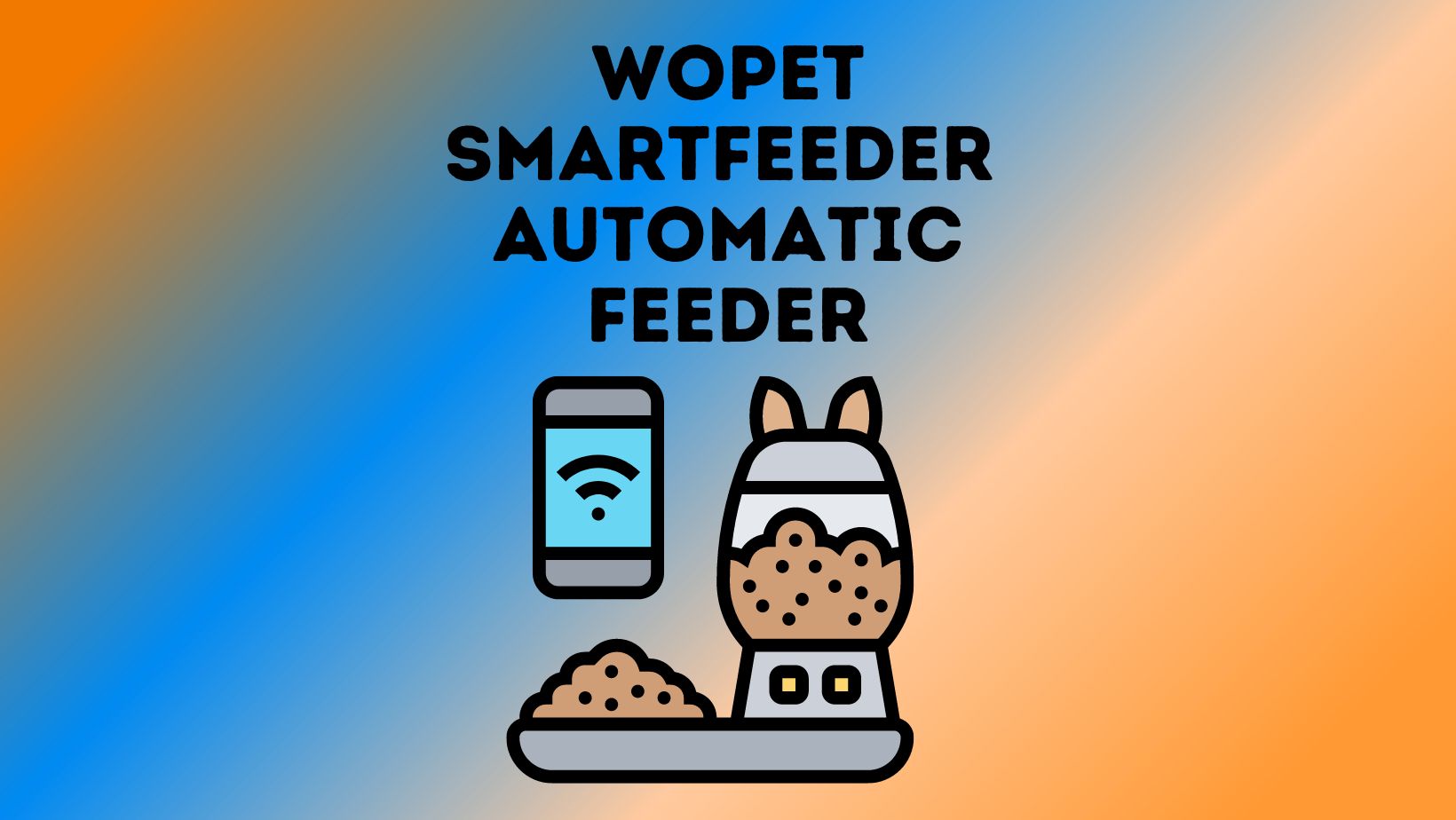 WOpet is a very popular brand when it comes to pet feeders and other pet equipment and accessories. In this article, we bring you the top picks from this brand and hope one of them will be a perfect fit for your pet!
About The Brand
WOpet is an American company founded a few years ago, in 2015. Since then they have become one of the most popular brands when it comes to feeding supplies and accessories. They offer products such as automatic pet feeders, treat dispensers, pet cameras, etc. Their products will make your life much easier and also will benefit the health of your pet. You may want to check out their very helpful website. Their feeders help to fight obesity, and many other health issues that are obesity-related when it comes to both cats and dogs.
Modern Technology Used With Pet Feeders
This company offers mostly automatic pet feeders that work with Wifi and offer the matching app you can download on your phone. That means you will be able to schedule the meals for your pet no matter where you are. Some even have cameras that let you see what your pet is doing and helps you to feel like you are not missing out on too much, even if you are at work most of the time. An additional feature is the ability to record a custom message for your pet and play it for them to call them for a meal.
Available Online And In Specialized Stores
You can get the WOpet feeders in the physical stores in the US, but also online if you can't make it to a store. There is an official website where you can order your model, but it can also be done through the authorized seller on the Amazon website. There you can even find certain discounts and products on sale sometimes.
Best WOpet Smart Feeder Reviews
WOpet SmartFeeder Automatic Pet Dog and Cat Feeder
The first one of the WOpet smartfeeders we are going to mention here is the automatic feeder for cats and dogs. This product is amazing for people who are constantly out and don't have the time to be home for every feed. You can set the schedule over your phone, which is a feature not all automatic feeders have.
This WOpet smart feeder is suitable to use only with dry food that should not be bigger than 0.6 inches in diameter. You can choose to set anywhere from one to six meals in a day and you can even control the size of the portion. The overall capacity of the food container is about 6.5 L, which can last up to a couple of days, depending on how much food your pet tends to eat.
There is a Pet-U iOS/Android app that comes with this product and that can be downloaded for free when you buy the feeder. The app is compatible with the iOS 7.5 or Android 4.0. However, you need to keep in mind that you will need your WiFi network to be at least 2.4 GHz in order for this pet feeder to work. There is also a video and audio recording HD camera on this feeder that is connected to the app. That way you can see what your pet is doing at all times. The camera has 120-degree wide angle lens.
With this pet feeder, you will get the power adapter and the user manual with all of the needed instructions. An additional benefit is the fact that it can work with batteries, but unfortunately, they aren't included in the price. There is a 30-day full refund option in case you aren't satisfied with your product and you will also get a 12-month warranty.
Pros:
Comes with HD camera
Free Pet-U iOS/Android app included
Cons:
Used only with dry food special size
WOpet SmartFeeder Automatic Pet Feeder
The next one of the WOpet smartfeeder models we want to mention is another one that requires WiFi. Just like the previously reviewed automatic pet feeder, it has an app that can be connected with your phone and allows you to feed your pet no matter where you are. Most of the other features are similar as well, with slight twists. This model has a very unique design that resembles a cat, but it can be used for dogs as well.
This pet feeder can serve up to 6 meals a day and the size of the portion is about 5 g. One meal can offer your dog anywhere between one and 39 portions. You can also set the food to be dispersed through a longer period of time, such as 15 minutes, which can then prevent bloating and vomiting. The food container can hold up to 2.5 L of dry pet food.
You will also get the user manual with the instructions and the power adapter included. If you want to you can even use three D batteries, but they are not included in the price. The voltage for the power adapter needs to be between 110 and 240 Volts. Another feature of the feeder is the HD camera that can record both the voice and the video. That way you can keep an eye on your pet even when you are not home.
If you aren't satisfied with the automatic cat feeder you can always get the full refund within 30 days from the day you purchase it. Also, in case of any defects, you can get a free repair or replacement in the time frame of 12 months.
Pros:
HD camera that records voice and audio
Unique cat design
Cons:
WOpet Automatic Cat Feeder with Ice Pack Included
Another model when it comes to WOpet feeders is their automatic feeder with an ice pack. It is a two-bowl feeder which means two of your pets can use it at the same time. Also, like most of their products, this one is also suitable for both cats and for the dogs.
This feeder allows you to program your pets' meals 48 hours in advance, so it is perfect for those who tend to work a lot and aren't at home too much. How it works is that the feeder comes with a timer that will lock the bowl until it reaches zero. And when the bowl is full, the lid will automatically pop open and your pet can enjoy their food.
This feeder uses ice packs that can be placed under the food tray, the food can say fresh for longer periods of time. That way you can even use the feeder for wet food and you don't have to worry about it going bad. When you aren't using the feeder, the ice packs can be left in the freezer. Each feeder can hold up to 1 and a half cups of pet food, which is enough for a day or two. The dimensions of each feeder are 8.25" x 4.75" x 2.5" (LxWxH).
This feeder works with AA battery which isn't included in the price. Each tray can be detached and washed separately by hand, but also in the dishwasher. That way it is even more convenient and faster for you. Just like with most of the WOpet products, you will get the 12-month warranty and 30-day money back guarantee. Aside from two automatic feeders in the package, you will also get two removable food trays, two ice packs, one manual, four of the white tabs and six of the suction cups.
Pros:
Ice pack keeps the food fresh
12-month warranty and 30-day guarantee
Cons:
Some owners say changing ice packs so frequently isn't for them
Only for two meals
WOpet Automatic Pet Feeder Stainless Steel Bowl with Portion Control
This automatic pet feeder is another one of the WOpet smartfeeder models. It can be used for cats and dogs, and when used with the best modern technology, it is best for helping your pets to establish regular eating routines which prevent obesity and other health-related issues.
This model used an LCD display that only has a few buttons to schedule and program up to 4 meals a day. Another unique feature is the ability to record a short custom message for your pet. The message can be played before every scheduled meal calling your pet to eat. The way you can record this message is by pressing and holding the record button for about three seconds.
It is super easy and fast to disassemble this pet feeder. All you need to do is remove the hygienic tray and put it into the dishwasher. That way you can be sure there are no germs and bacteria left that could potentially be harmful to your pet's health. They are also made of environmentally-safe material that is also not harmful to your pet.
This WOpet automatic pet feeder can be used for dry food only and the size of the food must be between 0.2 and 0.6 inches in diameter. An additional benefit is that it can be used through the power adapter, but also 3 pieces of the D-sized batteries. The overall dimensions of the product are 8.3 x 13 inches and the capacity of the container is 17 cups. It comes in a combination of blue and black color. In the package, you will get the feeder, the power adapter with the USB cable and the user manual for all of the instructions.
Pros:
Ability to record a custom message for your pet
Dishwasher safe material
Cons:
The warranty lasts only for 12-months
WOpet Feeder Instructions Manual
Another important thing when it comes to buying an automatic feeder is to know exactly how to use it. Even though all of the mentioned products were designed to be super user-friendly, it is still advised to read the instructions so you know how to use it properly. That is why with each model you buy, you will also get a user manual included. All of the WOpet models also have a warranty of 12 months, so you in case of any defects, you can get a free repair or replacement if needed. After that, if your feeder needs to be repaired, we advise you not to do it yourself, but take it to a professional.
Conclusion: What Is The Best WOpet Pet Feeder?
Here we reviewed four of the top pet feeders by the brand WOPet and all of the products we definitely recommend. However, one product, in particular, we would say is the best and that is the first WOpet smartfeeder we reviewed above. The reason for that is the fact that you can schedule 6 meals per day, control the portion size and do all that from the app on your phone. It also gives you the ability to see what your pet is doing through the feeder's HD camera. But, if you are more interested in automatic dog feeders that are simpler to use, read my post about best automatic pet feeders right now!